Master
Content
The DeltaVision OMX is a 3D structured illumination microscope (3D-SIM) designed to provide a highly stable, multi-channel imaging platform for advanced microscopy applications. The design of the microscope is such that super-resolution 3D images may be rapidly obtained and constructed. Live or fixed cells may be imaged.
Media Component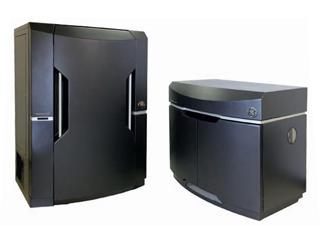 Content
Multiple illumination modalities

Structured illumination 3D SIM
Advanced TIRF and pK/pA module
Localization imaging
Wide-field imaging

SIM Blaze module for full 3D super-resolution reconstruction
UltimateFocus laser-based hardware autofocus technology
"Pan and scan" function
High precision motor-driven stage
Cameras
PCO front illuminated Edge sCMOS x 2
5-bit, 5.5Mp
512x512 for 3D-SIM
1024x1024 for wide-field and TIRF. High speed, low light sensitivity
Acquisition Software
OMX Master Control Workstation (Windows 7)
Workstation
softWoRx®/Imaris (CentOS v6, Linux)
Filter sets
2x 8 position filter wheels
Lasers
405nm ± 2
488nm ± 2; 568nm ± 1
642nm ± 2. 4-channel simultaneous imaging capability
Objectives:
60X oil PLANPON6, NA 1.42 (required for use with sCMOS camera)
60X APON, NA 1.49 with correction collar (required for TIRF)
Illumination
6-color InsightSSI solid state wide-field illumination. Supports DAPI/CFP/GFP, FITC/YFP/Alexa Fluor™ 568, mCherry/Cy™5/DIC.