Master
Media Component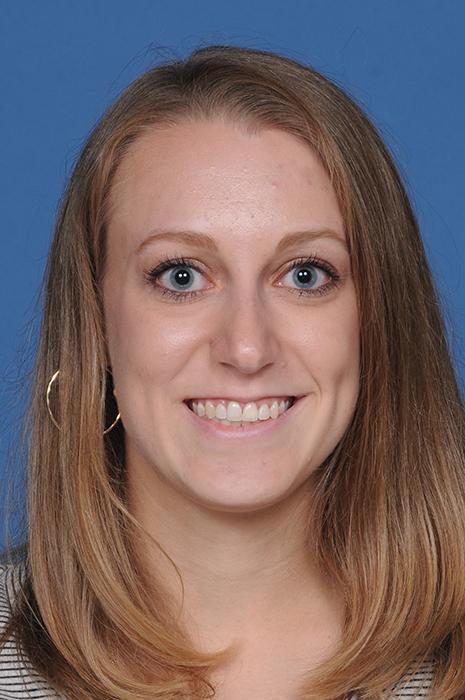 Content
Mentor: Anna Sokac, Ph.D.
Undergraduate major: Biochemistry and Molecular Biology
Undergraduate school: Mercer University
Why did you choose BCM?
I chose BCM for several reasons: Initially, I was attracted to BCM because it boasts fantastic faculty and cutting-edge research in the largest medical center in the world. I knew I would be getting a great education and have plenty of direct access to resources and mentors here. The research done here is competitive, but within the college, the environment is friendly and collaborative. Finally, BCM is located in Houston, which is a great location—the housing is affordable, and the food is amazing. There's also two airports and the cities of Austin, Dallas, and Galveston are only a few hours drive from Houston for when you want a weekend get-away.
What is Your Research Interest?
I study how the actin cytoskeleton, a fundamental component of cellular structure, responds to environmental stressors, or teratogens, in early development. The more we know about how this essential cellular system functions under stress, the better equipped we will be to understand aspects of development that are sensitive to teratogens. This knowledge could lead to better recommendations for fetal and maternal health down the road.
Why did you choose your mentor?
I chose my mentor partly because of her creative approach to research and partly because her strong mentorship style was what I was looking for in a graduate advisor. Our research uses a variety of cellular, molecular, biochemical, and imaging/microscopy techniques to answer complex questions about the actin cytoskeleton during development in live fruit fly embryos.
How does Baylor's location in the Texas Medical Center enhance your training and research?
The sheer concentration of researchers at all the institutes within the Texas Medical Center means that there's lots of chances for collaboration, mentorship, and excellent feedback on your research. As students, we have the opportunity to invite faculty members who work at different institutes, like MD Anderson, to sit on our thesis committees. Baylor's location within the TMC also opens doors for inter-institutional research groups and journal clubs, providing additional opportunities for you as a graduate student to share your ideas and receive expert feedback.
What activities are you involved with at the College?
Saturday Morning Science Mentoring: I have really enjoyed this experience (even if it means giving up early mornings on Saturdays) because it gives me an opportunity to practice classroom teaching skills and I also get to learn new things from the speakers and students themselves. SMS is a semester-long program for middle and high-school students who have a strong interest in pursuing science and medicine careers in the future. This program seeks to invest early in student development to increase diversity in the medical and research fields.
Tutoring: I enjoy tutoring fellow graduate students in the subjects of Biostatistics and Biochemistry.
BCM Harriers: I also enjoy running and outdoor activities. Fitness is a priority for me both for maintaining physical and mental health. BCM Harriers is a running club founded by BCM's own Dr. Kazu Oka and is coached by Rice University Track and Field coach Jon Warren. The group meets at the Rice track every Tuesday at 6. Anyone of any level of running skill is welcome to come try out.
What do you enjoy most about living in Houston?
The friendliness and diversity of the people who live here. Houston is an amazingly diverse city and you can find excellent cuisine from many different cultures and countries.
What are your career plans?
I plan on pursuing a post-doctoral fellowship and entering academia as a research professor at a primarily undergraduate institution.
What aspects of training at BCM do you feel are most influential in preparing you for your intended career?
BCM is home to many supportive faculty members who are dedicated to mentoring their students and preparing them for their future intended careers.
Another important aspect of training at BCM is the qualifying exam; everyone tends to have slightly different opinions about it, but the qualifying exam represents an important transition where you begin to synthesize what you've learned in your other classes and research rotations. You start thinking like a scientist and learn how to back up your ideas with strong rationale. The qualifying exam is also great practice for writing a fellowship or grant proposal.
BCM also has a dedicated Career Center for its students and post-docs. The counselors at the Career Center offer helpful seminars, let us know about upcoming job opportunities, and provide one-on-one career guidance counseling and interview prep.
What advice do you have for prospective students?
When you come for your visit, a great way to get a feel for the environment and culture of a graduate school is to interact with your student host(s). Ask them questions about their research and also what they like to do in their free time. If the grad students are happy and content, that is a good sign that the school is a positive learning and research environment. Also, keeping an open mind about the availability of mentors and the type of research you are interested in is a good idea. My current research is not what I initially intended to work on in graduate school, but I could not have planned a better fit for myself!
Media Component
Content
This image from my research shows a surface view of a fixed Drosophila melanogaster embryo undergoing cellularization, its first morphogenetic event in development. Cellularization is a synchronous process, heavily reliant upon cytoskeletal rearrangements, where ~6000 nuclei are encased in plasma membrane. In the image at bottom center (surrounded by duplicate pseudo-colored images), the individual cells of the embryo are outlined with plasma membrane (green) through immunostaining of the septin protein. The nuclei (blue) are stained with Hoechst dye. The confocal image was taken with a 63x oil objective lens. Artwork was inspired by Andy Warhol.