Master
Media Component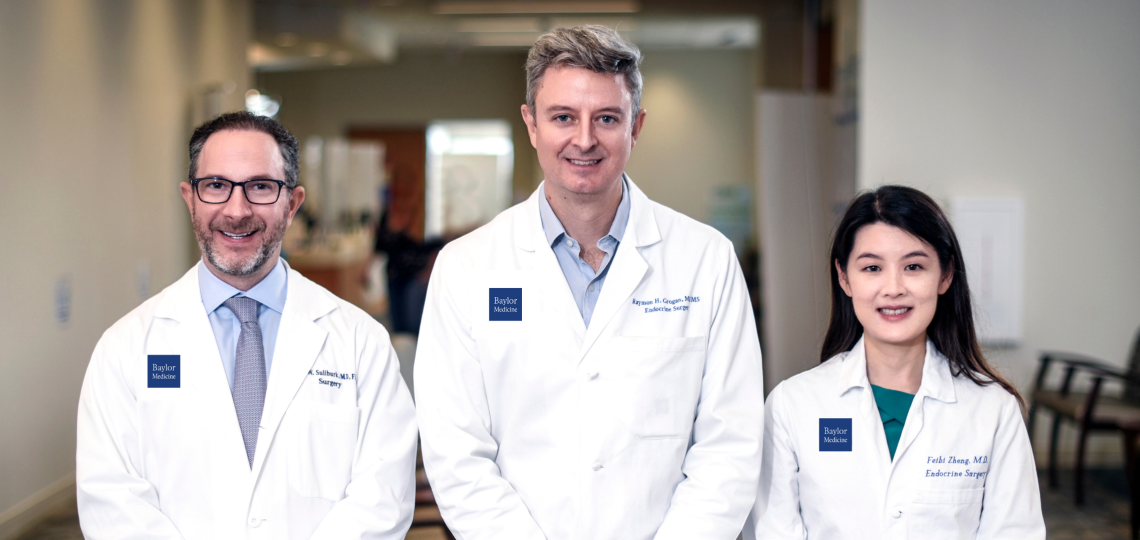 Heading
About Baylor Medicine Endocrine Surgery
Content
At the Baylor College of Medicine Endocrine Surgery Clinics, Drs. Raymon Grogan, James W. Suliburk, Feibi Zheng and their team, specialize in the treatment of tumors of the thyroid, parathyroid and adrenal glands.
As board-certified, fellowship-trained endocrine surgeons, they offer specialized care to patients in Houston and the surrounding area, with thyroid nodules, goiter, Graves' disease, thyroid cancer, hyperparathyroidism, adrenal masses, pheochromocytoma, Cushing's syndrome and Conn's syndrome.
Heading
Scarless Thyroid Surgery
Content
A new procedure allows surgeons, like Dr. Raymon Grogan, to access and remove the thyroid and parathyroid glands through small incisions on the inside of the mouth. 
Are you a candidate?
Heading
Thyroid Radiofrequency Ablation (RFA)
Content
Thyroid Radiofrequency Ablation (RFA) is a minimally invasive medical procedure that treats thyroid nodules. Using ultrasound-guided imaging. If you want more information about RFA or want to request a consultation, please click the link below. We look forward to helping you on your journey towards better health.
Learn More
Heading
Surgical Procedures
Content
© 2016-2019 Healthwise, Incorporated.