Master
Media Component

Credit
Agapito Sanchez, Jr.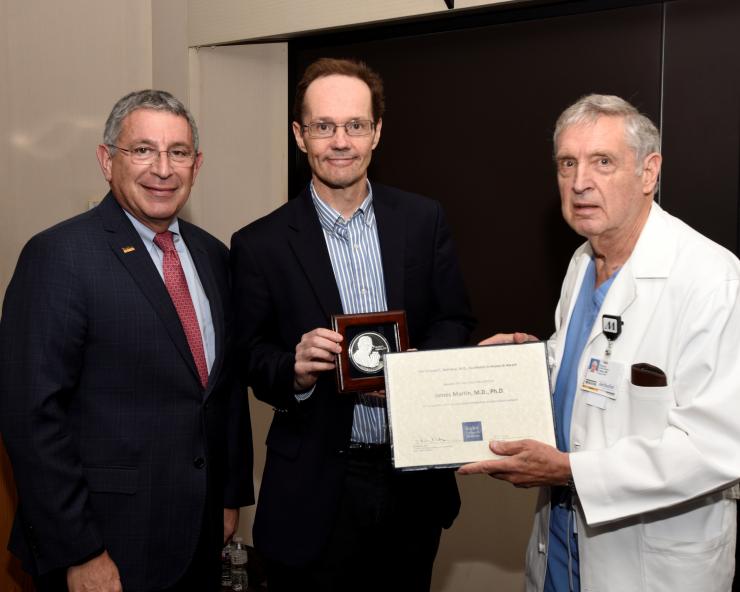 Content
Area: Molecular Physiology & Biophysics
Dr. Martin received the award for his research team focusing on a fundamental question: Why, unlike other muscle types, does the heart muscle fail to regenerate itself after it is damaged? In a series of recent papers, Dr. Martin and his team discovered that the Hippo signaling pathway is a critical inhibitor of heart regeneration.
An important 2013 Development paper revealed that by manipulating the Hippo pathway, the mammalian heart can be induced to repair itself after injury. A 2015 Science Signaling paper reported another important step in understanding cardiac regeneration. In this paper, Dr. Martin and his group uncovered the genes that are regulated by the Hippo pathway in the regenerating myocardium and provided important insights to direct future research efforts. A recent paper in Nature reported a novel genetic pathway that interacts with the Hippo pathway and is important for the cardiomyocyte response to oxidative stress, and it provided new insight for potential therapeutic targets to treat heart failure. This work has opened a new field of research that focuses on investigating the possibility that endogenous cardiomyocytes can be induced to repair the heart after injury.
Dr. Martin's nomination was based on the following publications:
Tao G, Kahr PC, Morikawa Y, Zhang M, Rahmani M, Heallen TR, Li L, Sun Z, Olson EN, Amendt BA, Martin JF. Pitx2 promotes heart repair by activating the antioxidant response after cardiac injury. Nature. 2016 May 25;534(7605):119-23. doi: 10.1038/nature17959.
Morikawa Y, Zhang M, Heallen T, Leach J, Tao G, Xiao Y, Bai Y, Li W, Willerson JT, Martin JF. Actin cytoskeletal remodeling with protrusion formation is essential for heart regeneration in Hippo-deficient mice. Sci Signal. 2015 May 5;8(375):ra41. doi: 10.1126/scisignal.2005781.
Heallen T, Morikawa Y, Leach J, Tao G, Willerson JT, Johnson RL, Martin JF. Hippo signaling impedes adult heart regeneration. Development. 2013 Dec;140(23):4683-90. doi: 10.1242/dev.102798.
Heading
DeBakey Award Nominations
Content
Baylor College of Medicine faculty members are invited to nominate colleagues for Michael E. DeBakey, M.D., Excellence in Research Awards. Learn more.