Master
Media Component

Credit
Agapito Sanchez, Jr.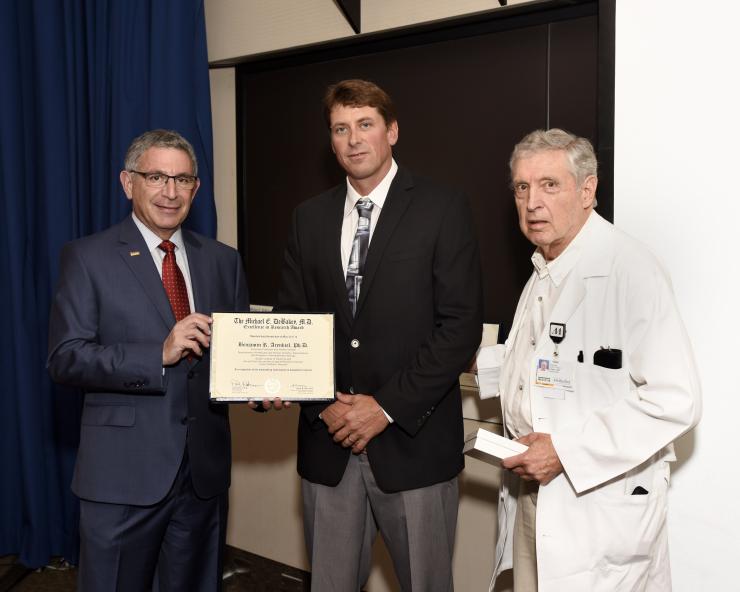 Content
Areas: Molecular and Human Genetics and Neuroscience
Associate Professor and McNair Scholar Depts. of Molecular and Human Genetics, Neuroscience, and Program in Developmental Biology Baylor College of Medicine and Jan and Dan Duncan Neurological Research Institute, Texas Children's Hospital
Dr. Benjamin Arenkiel, an associate professor of molecular and human genetics and neuroscience, has focused his research on improving our understanding of how the mammalian brain forms and maintains neural circuits. He recently described novel roles for neuropeptide signaling in synaptic remodeling within the adult mouse nervous system. In the area of circuit development, he discovered a new piece to the puzzle of how the brain organizes and processes information. The study, published in Nature Neuroscience, reports that although both depend on experience, excitatory and inhibitory neural maps mature in opposite ways. Excitatory neurons mature by sculpting and refining neural maps, while inhibitory neurons form maps that become broader with maturation. In addition, his contributions to the workings of the circuits of the mouse olfactory system have added to our understanding of how newly born neurons integrate into an existing network in the adult brain. His research, reported in Developmental Cell, shows that local corticotropin hormone signaling onto adult-born neurons promotes and/or stabilizes chemical synapses in the olfactory bulb, revealing a neuromodulatory mechanism for continued circuit plasticity, synapse formation, and integration of new neurons in the adult brain. Recently, a serendipitous finding triggered his interest in the neural mechanisms that govern feeding behavior. His lab discovered that cholinergic signaling in the basal forebrain exerts a strong influence on body weight control. Published in Nature, this is the first time that this neural circuit has been reported to influence feeding behavior, sensory processing, and stress, opening new research opportunities in these high-interest fields.
Dr. Arenkiel's nomination was based on the following publications:
Garcia I, Quast KB, Huang L, Herman AM, Selever J, Deussing JM, Justice NJ, Arenkiel BR. Local CRH signaling promotes synaptogenesis and circuit integration of adult-born neurons. Dev Cell. 2014 Sep 29;30(6):645-59. doi: 10.1016/j.devcel.2014.07.001. Epub 2014 Sep 4.
Herman AM, Ortiz-Guzman J, Kochukov M, Herman I, Quast KB, Patel JM, Tepe B, Carlson JC, Ung K, Selever J, Tong Q, Arenkiel BR. A cholinergic basal forebrain feeding circuit modulates appetite suppression. Nature. 2016 Oct 13;538(7624):253-256. doi: 10.1038/nature19789. Epub 2016 Oct 3.
Quast KB, Ung K, Froudarakis E, Huang L, Herman I, Addison AP, Ortiz-Guzman J, Cordiner K, Saggau P, Tolias AS, Arenkiel BR. Developmental broadening of inhibitory sensory maps. Nat Neurosci. 2017 Feb;20(2):189-199. doi: 10.1038/nn.4467. Epub 2016 Dec 26.
Heading
DeBakey Award Nominations
Content
Baylor College of Medicine faculty members are invited to nominate colleagues for Michael E. DeBakey, M.D., Excellence in Research Awards. Learn more.