Master
Media Component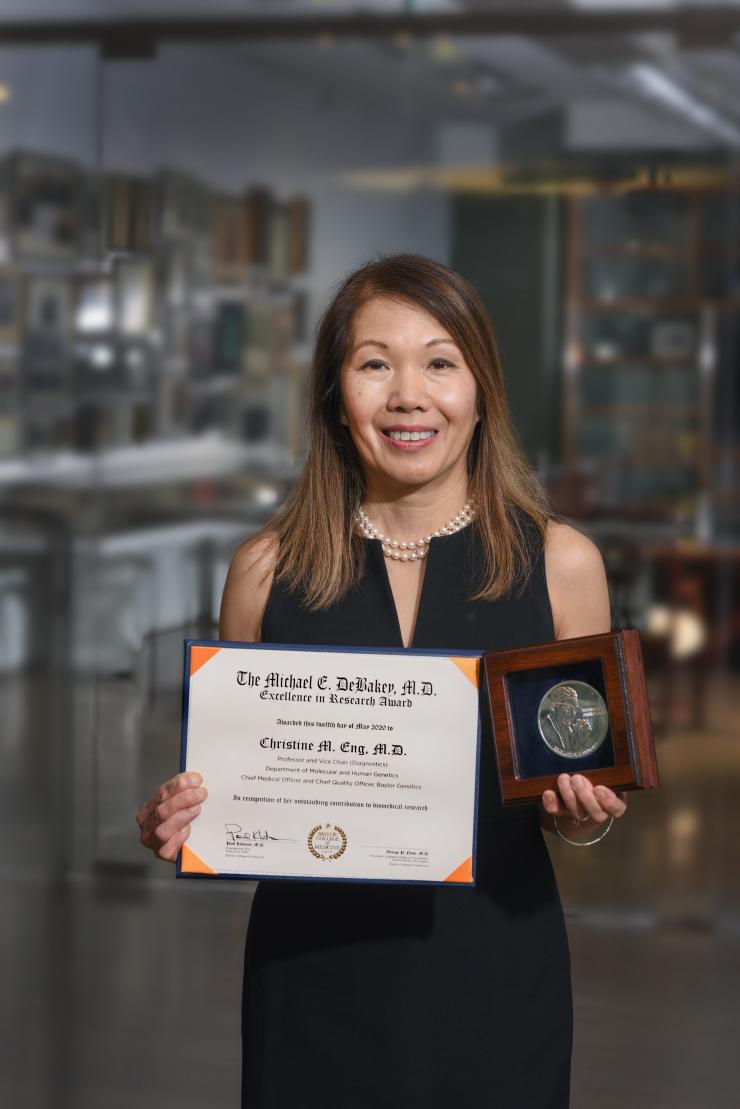 Content
Area: Molecular and Human Genetics
Dr. Christine M. Eng is professor of molecular and human genetics and chief quality officer, vice president and chief medical officer of Baylor Genetics. Her main research interests are the development and application of molecular genetics to the diagnosis and treatment of genetic diseases.
For the past six years, Dr. Eng has served as principal investigator of the Undiagnosed Disease Network (UDN) sequencing core which is at Baylor College of Medicine and Baylor Genetics and provides exome and genome sequencing and RNASeq to the network. In 2018, the New England Journal of Medicine published the accomplishments of the first two years of the UDN. The analysis of the data showed the clinical utility of the diagnoses. For instance,58 percent of the individuals receiving a diagnosis had a change in medical care. Diagnoses were the result ofgenomic sequencing and clinical interpretation conducted by Dr. Eng's team.
Dr. Eng's group also has pioneered the development and clinical implementation of whole exome and whole genome sequencing in clinical medicine. In 2019, the New England Journal of Medicine published a letter showing that re-analysis of existing exome data over time significantly increased the molecular diagnostic rate, in some cases from 25 percent to 47 percent. Seventy-five percent of the new diagnoses derived from newly discovered gene-disease associations.This is an example of how her work has rapidly translated into benefits for patients and introduced positive changes into the practice of medicine.
Dr. Eng's work has contributed to the development and clinical implementation of several innovative genetic diagnostic tests that are now considered part of routine clinical care,such as prenatal chromosome microarray analysis and whole exome sequencing. A paper published in Nature Medicine in 2019 described the development, validation and clinical implementation of a novel non-invasive prenatal assay that can detect new variants in 30 severe autosomal dominant disorders. To date, this is the only such clinical test available in the United States.and the research described by this paper represents a landmark in genomic medicine.
Heading
DeBakey Award Nominations
Content
Baylor College of Medicine faculty members are invited to nominate colleagues for Michael E. DeBakey, M.D., Excellence in Research Awards. Learn more.