Master
Heading
Example Report For Your Phange
Content
Characteristics
| | |
| --- | --- |
| Source Species | Human |
| Source Location | Raw Sewage |
| Isolation Date | 9/25/2019 |
| Isolation Strain | Your Strain |
| Plaque Size (mm) | 1.0–1.5 |
| Plaque Morphology Clear Plate stock (PFU/ml) | 1.2×1010 |
| Electron Microscopy Morphology | Myovirus |
Content
Sequencing
| | |
| --- | --- |
| Genome (BP) | 168,502 |
| G + C (%) | 43.68% |
| ORFs | 275 |
| tRNAs | 2 |
| Toxin/Virulence Genes | None |
| Lysogeny Genes | None |
| Antibiotic-Resistance Genes | None |
| Closest Relative | NPC |
| Genus | T4-like |
Content
Infection Kinetics
| | |
| --- | --- |
| Adsorption Constant (mL/min) | 8.92×10-7 |
| % Adsorbed (10 min) | 99 |
| Latent Period (Min) | 20 |
| Burst Size (PFU/cell) | 18.2 |
Content
Formulation
| | |
| --- | --- |
| Type | CsCl Purified Phage |
| Volume (mL) | 4.3 |
| Titer (PFU/mL) | 2.2×10.11 |
| Sterility (Aerobic/Anaerobic) | Pass |
| Endotoxin Quantification (EU/mL) | 5.6×10.3 |
Content
At this last step, we can hand over the final product.
We can deliver: 
Phage(s) or phage cocktails designed to target your bacterial strain(s), formulated in whatever media you request.
Chemical, manufacturing, and control information to verify the product's safety, stability, and sterility.
Quantifiable reports tailored to your project's requests. (Example above)
Media Component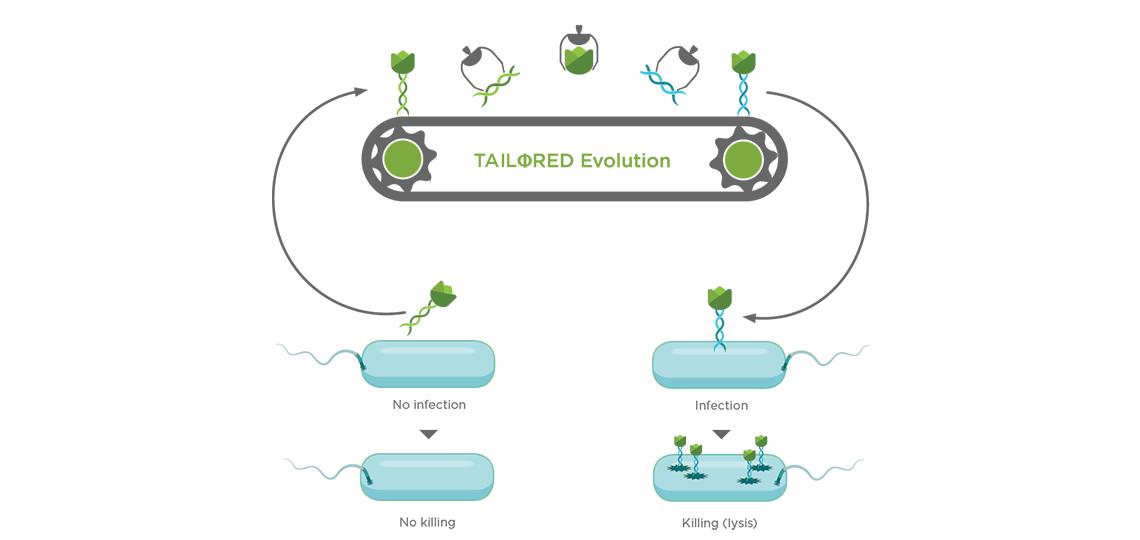 Heading
Quickly Evolve Phange to Target Resistant Bacteria
Content
Phages are small, but powerful killers of bacteria. This selective pressure may lead bacteria to evolve resistance and escape from phage, similar to antibiotic resistance. If this happens, TAILΦR can discover new phages or employ proprietary technology to evolve new phage that kill resistant bacteria.