Master
Heading
Indications For Use
Content
Proliferation index is an important prognostic factor in breast cancer. The Ki-67 protein is expressed in all phases of the cell cycle except G0 and serves as a good marker for proliferation. Studies that have evaluated proliferation index by Ki-67 IHC in breast cancer have shown a significant correlation between high proliferation rates and shorter disease free and overall survival(1-4).
Heading
Scoring/Interpretation
Media Component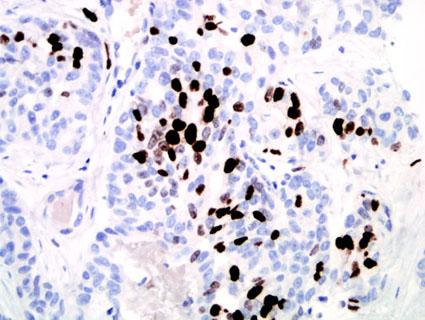 Content
The Ki-67 proliferation index is assessed by point counting 500 to 1000 cells and is reported as percent positive cells. The cut-off to define a high Ki-67 proliferation index is not well-established or universally agreed upon. In our laboratory, we use 20 percent positive cells to define "positive" (i.e. high risk) based on the results of studies we feel are currently the best available in the medical literature (1, 2). See detailed staining procedure.
Heading
Selected Bibliography
Content
Elledge RM, Allred DC. Clinical aspects of estrogen and progesterone receptors. In: Harris JR, Lippman ME, Morrow M, Osborne CK, editors. Diseases of the breast. Philadelphia: Lippincott Williams & Wilkins; 2004. p. 603-17.
Allred DC, Harvey JM, Berardo M, Clark GM. Prognostic and predictive factors in breast cancer by immunohistochemical analysis. Mod Pathol 1998;11(2):155-68.
Tamoxifen for early breast breast cancer: an overview of the randomised trials. Early Breast Cancer Trialists' Collaborative Group. Lancet 1998;351:1451-67.
1997 update of recommendations for the use of tumor markers in breast and colorectal cancer. Adopted on November 7, 1997 by the American Society of Clinical Oncology. J Clin Oncol 1998;16(2):793-5.
Fitzgibbons PL, Page DL, Weaver D, Thor AD, Allred DC, Clark GM, et al. Prognostic factors in breast cancer. College of American Pathologists Consensus Statement 1999. Arch Pathol Lab Med 2000;124(7):966-78.
Love RR, Duc NB, Allred DC, Binh NC, Dinh NV, Kha NN, et al. Oophorectomy and tamoxifen adjuvant therapy in premenopausal Vietnamese and Chinese women with operable breast cancer. J Clin Oncol 2002;20(10):2559-66.
Mohsin SK, Weiss H, Havighurst T, Clark GM, Berardo M, Roanh LD, To TV, Zhang Q, Love RR, Allred DC. Progesterone receptor by immunohistochemistry and clinical outcome in breast cancer: a validation study. Modern Pathol 2004;17:1545-54.