Master
Heading
What Is a Brain Arteriovenous Malformation (AVM)?
Media Component

Credit
American Heart Association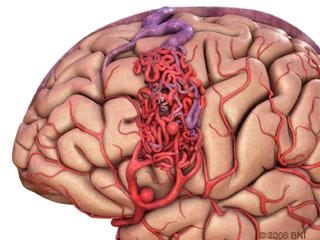 Content
A brain arteriovenous malformation (AVM) is an abnormal tangle of unusually formed blood vessels in the brain (Figure 1). Over time, these vessels can weaken and bleed into the brain itself. Brain AVMs can occur in men and women of all ages and ethnicities but are most commonly discovered between adolescence and 40 years of age. Brain AVMs are rare, but once discovered, it is important to have them evaluated by a doctor with expertise in brain vessels such as a cerebrovascular neurosurgeon.
The cerebrovascular neurosurgeons at Baylor Medicine and Baylor St. Luke's Medical Center in Houston, Texas, specialize in the diagnosis and treatment of brain AVMs and other brain blood vessel disorders. Our doctors have national reputations as leaders in the field of AVM diagnosis and treatment. Each brain AVM is different and our doctors have expertise managing these potentially dangerous lesions.
Request an appointment
Heading
What Causes Brain AVMs?
Content
It is unclear what causes the formation of brain AVM; however, they are thought to form during brain development before birth or soon after birth during infancy. There are genetic conditions that lead to AVMs, but these conditions are very rare.
Content
Brain AVMs can cause a variety of symptoms, including:
Headaches
Stroke-like symptoms
Brain bleed
Seizures
Weakness
Numbness
Slurred speech
Content
There are three brain imaging tests that are used to see and evaluate brain AVMs:
Magnetic Resonance Imaging (MRI) uses magnetic fields to create images of the brain and the brain's blood vessels.
Computerized Tomography (CT) scan uses multiple x-ray images taken from different angles to produce pictures of the brain. A computerized tomography angiogram (CTA) is a CT scan with a contrast dye injected into the patient's veins through an IV, usually in the arm, and allows blood vessels to be seen more accurately than regular CT scans.
Cerebral Angiogram (Digital Subtraction Angiography) uses small tubes placed inside the arteries of the leg and advanced to the neck. Dye is injected through the tube into the blood stream of the neck arteries and flows into the brain blood vessels, giving doctors the highest quality images of the blood vessels in the neck and brain.
Heading
Why Treat Brain AVMs?
Content
The goal of AVM treatment is to prevent bleeding from the AVM. When an AVM bleeds, it can damage the surrounding brain tissue with mild to serious consequences (Figure 2). Some of the problems encountered after AVM rupture can include body weakness, loss of speech, numbness, paralysis, coma and even death.
The risk of AVM bleeding depends on several factors, including AVM location, history of prior AVM bleeding, and the presence of any dangerous features, such as aneurysms or blisters on the AVM vessels. The risk of bleeding for unruptured AVMs is two percent per year. If the AVM has ruptured or has one or more dangerous characteristics, the rate is often higher. Despite the low two percent annual bleed risk, the chances of an AVM bleeding at some point during a person's lifetime adds up. Therefore, young people who are diagnosed with an AVM have a higher risk of a brain bleed at some point in their lifetime and treatment is often recommended.
Media Component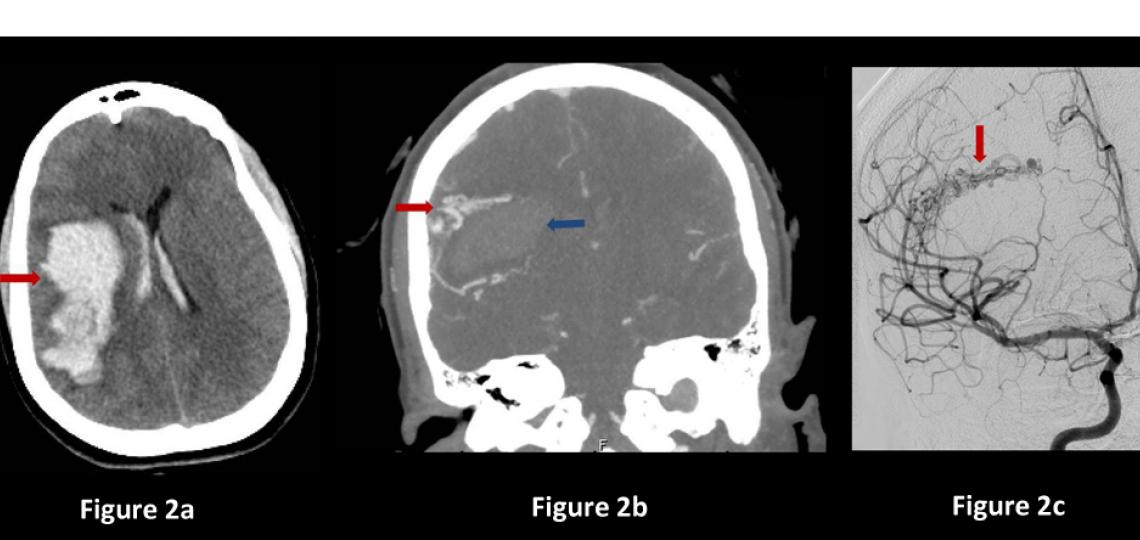 Content
Figure 2a: Brain CT scan showing bleeding (arrow) in the brain. Figure 2b: CT angiogram showing bleeding in the brain (blue arrow) and nearby AVM vessels (red arrow) that caused the bleed. Figure 2c: Brain angiogram showing the abnormal vessel tangle (arrow).
Content
There are many factors that go into the decision to treat a brain AVM. Your cerebrovascular neurosurgeon will help guide you through the different options to make the best decision possible for you and your individual case. A few of the important factors neurosurgeons consider when deciding whether to treat a brain AVM include history of prior AVM bleed into the brain, AVM size and AVM location within the brain. It is often best to watch AVMs that are very large or located in critical parts of the brain, while AVMs in safe areas of the brain can be treated to prevent future bleeding. There are three main treatment options for brain AVMs: open neurosurgery, AVM embolization, and radiation (radiosurgery or stereotactic radiosurgery).
Content
Neurosurgery is often the best option for small to medium size AVMs in favorable areas of the brain because it allows for the immediate and complete cure of the AVM, with a good safety profile. The patient undergoes traditional surgery in the operating room under anesthesia. An angiogram during surgery can confirm that the AVM is removed, and there is no longer a risk of bleeding from it. Neurosurgery provides an immediate cure (Figure 3).
Media Component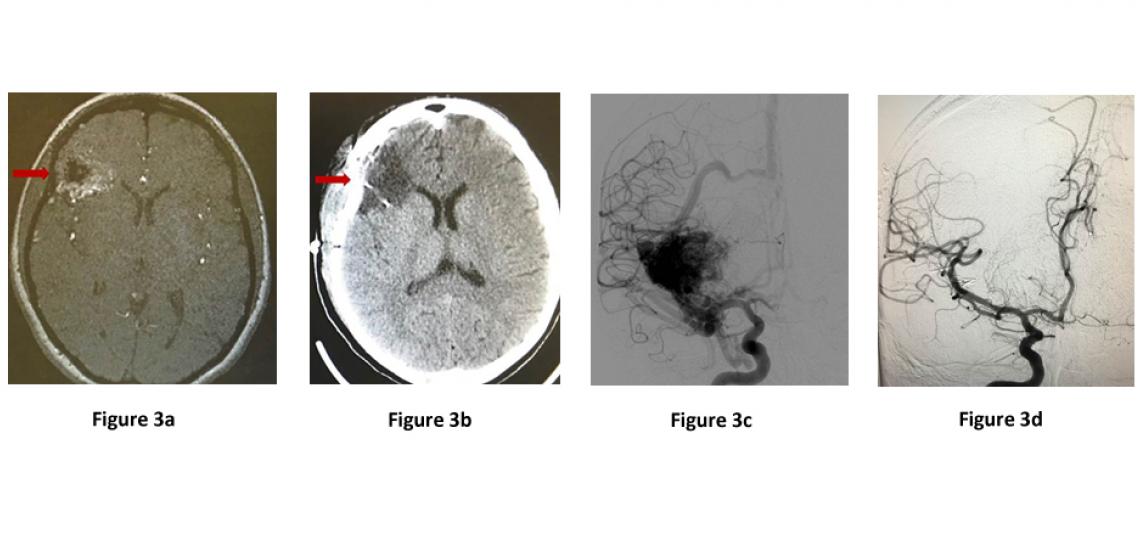 Content
Figure 3a: MRA scan showing right frontal AVM (arrow). Figure 3b: CT scan after surgery showing no remaining AVM (arrow). Figure 3c: Brain angiogram before surgery showing the brain blood vessels and large AVM (black mass). Figure 3d: Brain angiogram after surgery showing normal brain vessels and no AVM.
Content
It is rare to cure an AVM with embolization alone. This strategy is often used prior to neurosurgery to decrease the blood flow in the AVM, making neurosurgery safer. The embolization procedure is performed by feeding small flexible tubes into the arteries of the brain, using x-ray guidance. Once in the brain, a very tiny tube is fed into the AVM vessels, and a special type of liquid glue is injected into the AVM vessels which blocks blood flow through them.
Heading
Stereotactic Radiosurgery
Content
Stereotactic radiosurgery, also known as radiosurgery, involves aiming multiple focused beams of radiation that converge at the AVM. Ultimately, a high dose of radiation is absorbed by the AVM, but very little radiation is absorbed by the surrounding brain. Over time, this radiation exposure narrows and shrinks the AVM blood vessels until they go away. However, the downside of this treatment is that it may take two to three years for the AVM vessels to shrink away, and during this time, there is still a risk of bleeding. Furthermore, only approximately 70-80 percent of patients are ultimately cured with this technique.