Master
Heading
What Are Cavernous Malformations?
Content
Cavernous malformations, also known as "cavernous angiomas," "cavernous hemangiomas" or just "cavernomas" are clusters of tightly packed abnormal blood vessels surrounded by normal brain tissue. Unlike high blood flow brain arteriovenous malformations (AVMs), the abnormal blood vessels in cavernous malformations have slow blood flow. Cavernous malformations typically occur in the brain where they are called "cerebral cavernous malformations" (CCM) but can also arise in the spinal cord, covering of the brain (dura), and nerves exiting the brain or spine. Cavernous malformations are important to recognize and even remove in some cases because they have the tendency to bleed and injure the surrounding brain.
Approximately 1 in every 200 people has a cavernous malformation and many develop symptoms by the time they are in their 30s. Most cavernous malformations appear spontaneously and without explanation; however, 20 percent of cavernous malformations are genetic and run in families. If you have a cavernous malformation, there is an estimated one percent chance of bleeding per year.
The cerebrovascular neurosurgeons at Baylor Medicine and Baylor St. Luke's Medical Center in Houston, Texas, specialize in the diagnosis and treatment of cavernous malformations and other brain blood vessel disorders. Our doctors believe that each patient is different and provide tailored, individualized plans for managing these lesions.
Request an appointment
Content
Often cavernous malformations produce no symptoms and remain small and silent. However, when symptoms occur, they are usually associated with a bleed within the lesion. The symptoms experienced by the patient are determined by where in the brain or spinal cord the cavernous malformation is located. Common symptoms related to a cavernous malformation include:
Seizure
Headache
Weakness in the arm or leg
Difficulty speaking
Difficulty with balance
Visual changes
Content
Cavernous malformations are best identified on magnetic resonance imaging (MRI) scans. Other tests may find cavernous malformations as well or be ordered to confirm that the areas seen on MRI are not other types of brain malformations.
CT Scan - A CT (computed tomography) scan is an computer reconstruction of a series of x-rays that doctors can sometimes use to identify cavernous malformations. These are particularly useful to determine whether a cavernous malformation has bled recently.
Magnetic Resonance Imaging (MRI) - An MRI scan uses magnetic waves to produce a more detailed image of the brain, can identify even very small cavernous malformations, and provides details regarding the location of the lesion within the brain. MRIs are often repeated and used to monitor cavernous malformations for growth.
Content
Depending on a range of factors including patient age, number of cavernous malformations, lesion size, location within critical or non-critical areas of the brain or spinal cord, presence of other nearby vascular structures and the presence or absence of symptoms, your cerebrovascular surgeon may recommend either waiting and watching or treatment. Treatment may include monitoring, medications and/or surgery.
Content
Generally, cavernous malformations that are small, not causing symptoms or located in critical brain areas are not treated immediately but rather monitored (Figure 1). Most such patients are "followed" by repeat MRI scan every year for several years, then if there is no growth, the MRIs are spaced out every two to five years after that. Treatment may be needed if the lesion grows or causes new symptoms.
Media Component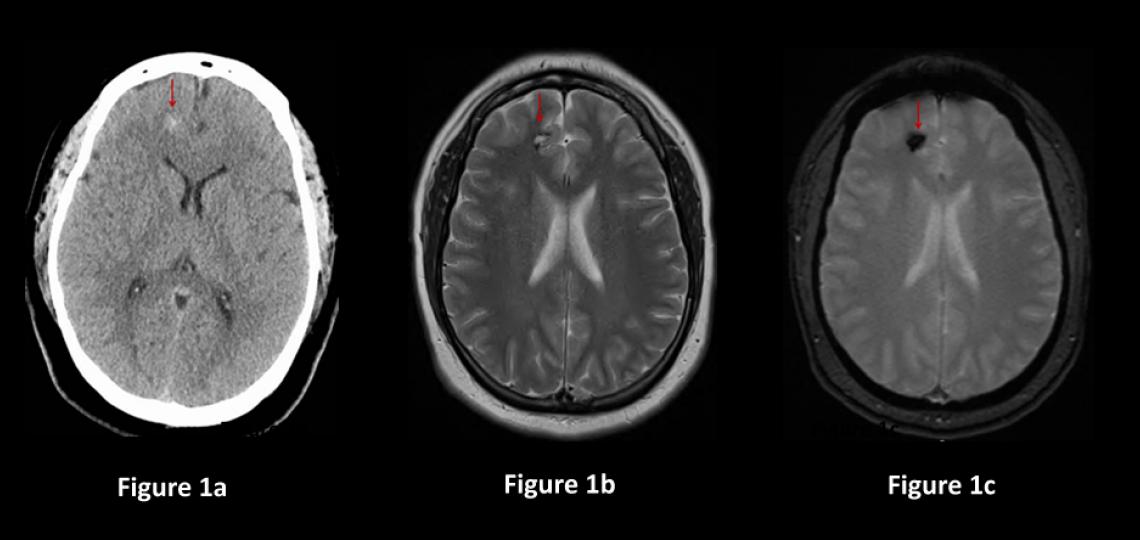 Content
Figure 1a: CT scan of the brain in a patient with a mild headache showing a small spot of white bleeding (red arrow). Figure 1b: Brain MRI scan showing a small cavernous malformation (red arrow) in the frontal lobe. Figure 1c: Brain MRI sequence showing the presence of bleeding (red arrow).
Content
Medications cannot treat the cavernous malformations directly but can help with symptoms such as seizures, headache and difficulties with attention.
Content
Direct removal of the cavernous malformation with surgery is the only known cure. Surgery is often recommended for cavernous malformations that are causing symptoms, grow on repeat imaging, bleed and are easily accessible by traditional neurosurgical methods with low risk of harming the surrounding brain (Figure2). The decision to treat cavernous malformations is nuanced and should be discussed between the patient and their cerebrovascular neurosurgeon.
Cavernous malformations are surgically removed under general anesthesia in the operating room. The neurosurgeon locates the correct area of the brain using an intra-operative GPS system called stereotactic navigation. A small pathway is made through the bone over the malformation. The navigation system is used to pinpoint the lesion and the malformation is meticulously removed using an operative microscopic for maximal illumination and magnification. The goal is complete removal of the cavernous malformation with minimal disruption of surrounding brain tissue.
Media Component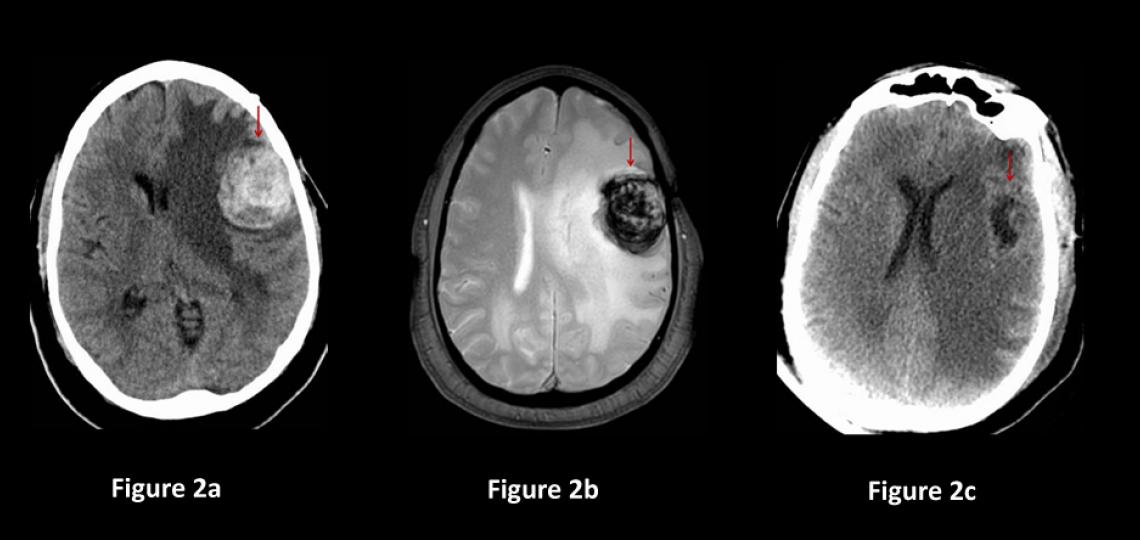 Content
Figure 2a: Brain CT scan in a patient having difficulty speaking shows a 3cm mass containing blood (red arrow). Figure 2b: Brain MRI showing the mass with blood inside (red arrow). Figure 2c: CT scan of the brain after surgery showing the cavernous malformation removed (red arrow) and less brain shift.
Heading
Post-Operative Care and Recovery
Content
Surgery for cavernous malformations is best performed at specialized cerebrovascular centers like Baylor St. Luke's Medical Center where there are specially trained neurosurgeons, neuro-anesthesia and post-operative care in a specialized neurological intensive care unit. Patients are typically in the hospital for two to three days after surgery and our doctors perform these surgeries with minimal hair removed.