Master
Heading
Our Philosophy on Pain Management
Content
Baylor Medicine has long been a pioneer in functional neurosurgery, using targeted therapies to improve quality of life. Our multidisciplinary team provides personalized therapy for the treatment of various pain conditions.
Our approach to pain management focuses on providing the least-invasive treatment to improve quality of life.
Comprehensive facial pain center offering microvascular decompression, percutaneous radiofrequency ablation and balloon compression and stereotactic radiosurgery 
Referral center for the management of cancer pain using both minimally invasive ablative techniques, including cordotomy and intrathecal drug delivery 
Top neuromodulation center for implantation of spinal cord stimulators, dorsal root ganglion stimulators, and intrathecal pumps 
Heading
Disorders Treated
Content
Chronic pain
Trigeminal neuralgia 
Cancer pain
Spasticity
Neck and back pain
Heading
Treatment Options
Content
Microvascular decompression 
Outpatient trigeminal neuralgia treatment 
Spinal cord stimulation 
Intrathecal drug delivery 
Stereotactic radiosurgery
Content
The proper management of facial pain conditions, including trigeminal neuralgia, is critically dependent on the ability of your neurosurgeon to provide you with a complete range of treatment options for your pain condition. At Baylor Medicine, our fellowship-trained physicians have deep expertise in a range of surgical procedures to provide the most personalized care for you.
Content
Intractable back and neck pain, which is not amenable to spine surgery, is one of the most significant health challenges in America. The negative long-term effects of chronic systemic opioid use have led to substantial investment in therapies to improve the quality of life in those suffering from chronic pain.
Content
The management of pain associated with cancer often requires a different approach than we use for patients with other pain conditions. Our team has a highly unique experience in the management of cancer pain and closely collaborates not only with Baylor Medicine's Dan L Duncan Cancer Center but also with the MD Anderson Cancer Center to provide this expertise to their patients as well. Through minimally invasive techniques, it is possible to dramatically decrease pain associated with cancer and restore functionality.
Terms

Ashwin Viswanathan, M.D.
Item Definition
Dr. Ashwin Viswanathan is a fellowship-trained expert in the neurosurgical treatment of pain. He is experienced with multiple techniques including stereotactic radiosurgery for treating trigeminal neuralgia (a disorder that results in intolerable pain on one side of the face).

Everton A. Edmondson, M.D.
Item Definition
Dr. Everton Edmondson is a neurologist who specializes in pain medicine. He received his medical training from New York University and completed an internship in internal medicine at the University of Connecticut. Following his residency at Baylor College of Medicine, Dr. Edmondson completed a fellowship in pain and neuro-oncology at University of Texas MD Anderson Cancer Center. Dr. Edmondson is board certified in neurology and pain medicine.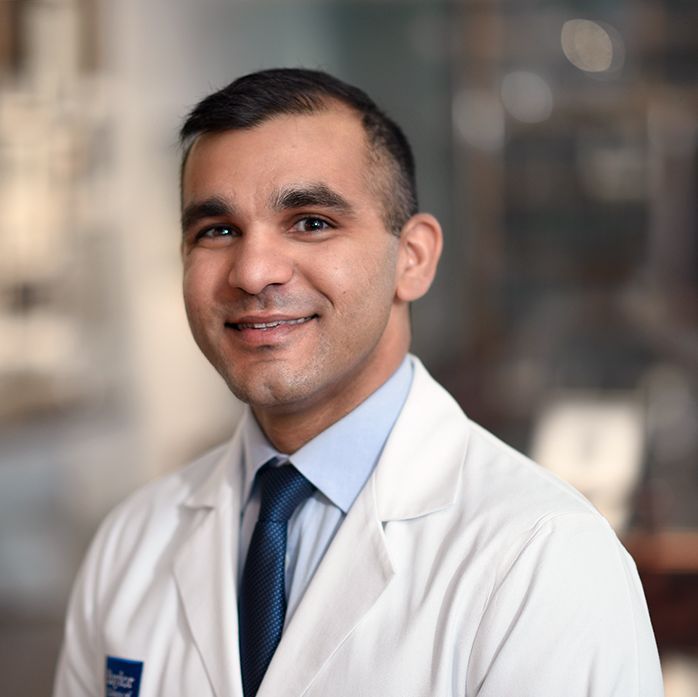 Krishna Shah, M.D.
Item Definition
Dr. Krishna Shah is an anesthesiologist who specializes in interventional pain management. He earned his medical degree from The University of Texas Health Science Center at Houston and completed his residency in anesthesiology at Baylor College of Medicine. He also completed a fellowship in interventional pain management at Harvard Medical School's Brigham and Women's Hospital. Dr. Shah performs spine and joint injections as well as advanced interventions such as spinal cord stimulators and intrathecal pain pumps for chronic pain.
Heading
Selected Publications
Content
Viswanathan A, Vedantam A, Hess KR, Ochoa J, Dougherty PM, Reddy AS, Koyyalagunta L, Reddy S, Bruera E. Minimally invasive cordotomy for refractory cancer pain: a randomized controlled trial. The Oncologist. In press.
Vedantam A, Bruera E, Hess KR, Dougherty PM, Viswanathan A. Somatotopy and Organization of Spinothalamic Tracts in the Human Cervical Spinal Cord. Neurosurgery. 2018 Jul 13.
Ghali MGZ, Srinivasan VM, Viswanathan A. Microvascular Decompression for Hemifacial Spasm. Int Ophthalmol Clin. 2018 Winter;58(1):111-21.
Vedantam A, Koyyalagunta D, Bruel BM, Dougherty PM, Viswanathan A. Limited Midline Myelotomy for Intractable Visceral Pain: Surgical Techniques and Outcomes. Neurosurgery. 2017 Nov 1.
Reddy GD, Viswanathan A. Trigeminal and glossopharyngeal neuralgia. Neurol Clin 2014;32:539-52.
Gadgil N, Viswanathan A. DREZotomy in the treatment of cancer pain: a review. Stereotact Funct Neurosurg. 2012;90:356-60.