Master
Media Component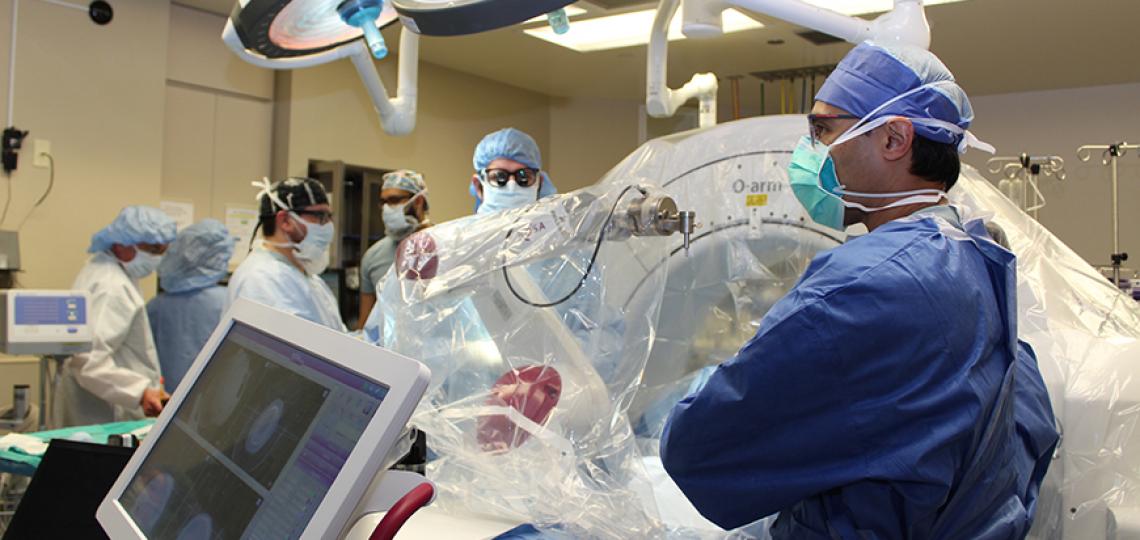 Heading
About Epilepsy Neurosurgery
Content
For patients with epilepsy who cannot attain good seizure control with medications, epilepsy surgery is an important option. Baylor Medicine Neurosurgery has been a recognized leader in the surgical treatment of epilepsy for more than 30 years.
Heading
Pre-Surgical Evaluation and Monitoring
Content
Before every meeting with a Baylor neurosurgeon, patients are carefully evaluated by a team of experts at the Baylor Comprehensive Epilepsy Center to determine whether a patient is a good candidate for epilepsy surgery, and which surgical procedure is best for that patient. The evaluation is personalized for each patient and typically includes several of the tests listed below, all of which are available at our center. The goal is to determine the area of the brain where the seizures come from can be pinpointed and get a better picture of your type of seizures.
Heading
Non-Invasive Monitoring and Testing
Content
One of the most critical steps in properly characterizing a patient's epilepsy is an admission to the accredited epilepsy monitoring unit (EMU) at Baylor St. Luke's Medical Center for several days of monitoring with continuous video and electroencephalogram (EEG) recordings.
Video electroencephalogram (EEG) telemetry in the Epilepsy Monitoring Unit (EMU)
Advanced MRI, including functional MRI and diffusion tensor imaging (DTI)
Neuropsychological testing
Positron emission tomography (PET)
Single-photon emission computed tomography (SPECT)
Magnetoencephalography (MEG)
WADA test
Heading
Invasive Monitoring
Content
In some cases, monitoring with non-invasive scalp electrodes is not sufficient to localize seizures. Electrodes can then be surgically implanted inside the skull, and recordings directly from the brain are monitored in the EMU to map out the seizure focus.
Grid, strip and depth electrodes
Stereo-electroencephalography (SEEG)
Heading
Surgical Options and Techniques
Content
For patients who are surgical candidates, we have expertise in the full range of modern epilepsy surgeries: 
Anterior temporal lobectomy
Extratemporal resections
Brain mapping, awake craniotomy
NeuroPace® Responsive Neural Stimulator (RNS) - Our department was one of the first sites in the U.S. to participate in a clinical trial of RNS.
Vagus nerve stimulation (VNS) therapy
Hemispherectomy
Multilobar resections
Laser interstitial thermal therapy (LITT)
Description
Our epilepsy surgeons function as an integral part of the multidisciplinary team of specialists and subspecialists from the Baylor Comprehensive Epilepsy Center. We also collaborate closely with referring neurologists from across Texas and beyond to ensure excellent long-term care and the best patient outcomes. 
Terms

Sameer Sheth, M.D., Ph.D.
Item Definition
Dr. Sheth specializes in the treatment of patients with movement disorders, epilepsy, brain tumors, tremor and psychiatric disorders such as obsessive-compulsive disorder and depression. He has extensive experience in neurosurgical procedures such as deep brain stimulation (DBS), epilepsy surgery, and brain tumor resection.

Paul Van Ness, M.D.
Item Definition
Dr. Van Ness is a neurologist specializing in epilepsy and is a nationally recognized leader in clinical evaluations for epilepsy surgery and surgical neurophysiology. He has vast experience in treating the most challenging epilepsy cases.