Master
Media Component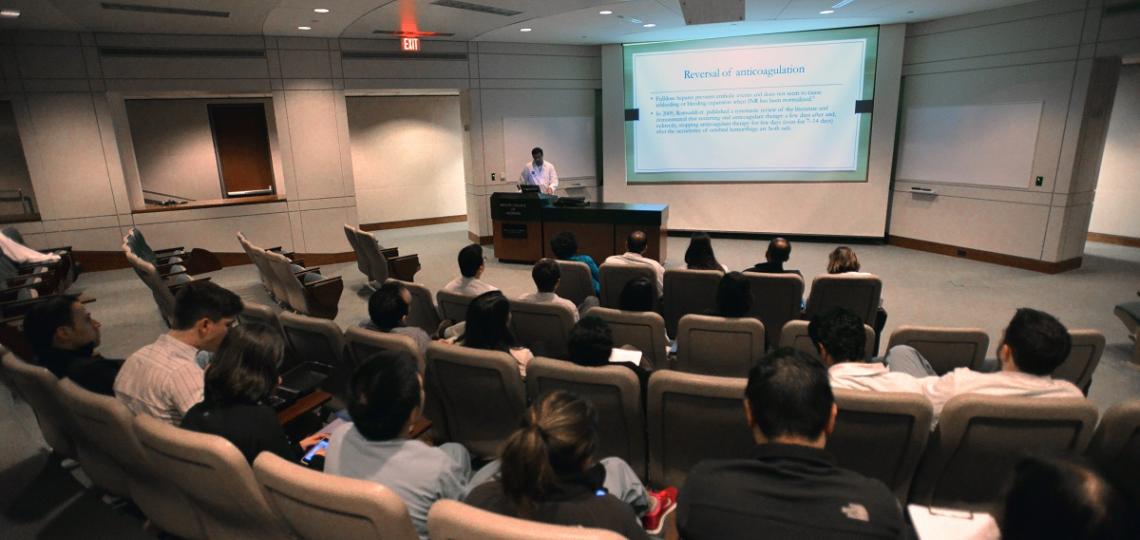 Content
A rich, multifaceted series of conferences complement the clinical and research training. In addition to the section conferences, fellows have access to basic science and clinical conferences throughout the entire Baylor College of Medicine campus, as well as at other institutes in the Texas Medical Center.
Content
Faculty from the Section as well as guest faculty from BCM present on core topics in pulmonary and critical care. Lecture topics generally follow the blueprint for pulmonary and critical care boards.
Heading
Case Conference Series
Content
Fellows learn to formulate a differential diagnosis and approach to common and uncommon manifestations of pulmonary disease. Fellows collect and present a variety of pulmonary and critical care cases with interesting radiographic findings. Faculty give a brief discussion on important clinical and radiographic points for each case. 
Content
Fellows critically review research articles from major pulmonary, critical care, sleep journals, and key general medicine journals. Fellows learn principles of evidence-based medicine, statistical analysis, and critical appraisal of the literature with the guidance of a faculty member.
Heading
Quality Improvement Conference
Content
Held monthly, fellows present cases from the individual training sites that resulted in morbidity or mortality. Using quality improvement tools such as fishbone diagrams, fellows will identify errors and deficiencies.
Heading
Introduction to Pulmonary Medicine
Content
A fellow-led and faculty-supervised conference that assists incoming PCCM fellows in learning the basics of commonly encountered pulmonary concerns - both inpatient and outpatient. This series is geared specifically for first-year PCCM fellows at the beginning of their fellowship training.
Content
Faculty lead this conference series for both critical care medicine and pulmonary medicine to review various topics using board style questions to frame the talks.