Master
Media Component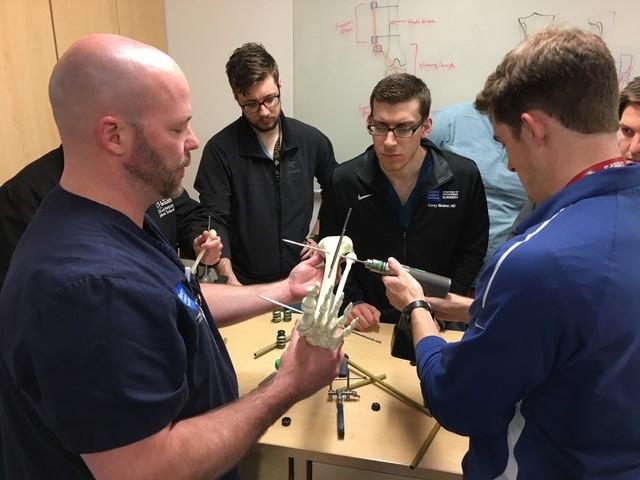 Heading
Call Assignments/On-Call Duties
Content
Residents create and manage the call schedule.
Ben Taub
In-house junior (PGY 1-2) and senior resident (PGY 3-4)
Seven to eight calls per month per resident
Includes residents on foot, oncology and spine rotations
General
Baylor St. Luke's Medical Center at McNair (70 percent), Michael E. DeBakey Veterans Affairs Medical Center (30 percent)
Four to five in-house primary calls
Texas Children's Hospital
Baylor  in-house (PGY2-4) residents
Seven to eight calls per month per resident
Composed of residents assigned to Texas Children's Hospital only
Chief Resident Call
One week out of six weeks
View our training sites to learn more about what our residents experience throughout their rotations. 
Heading
Didactic and Conferences
Content
Educational Conferences
Intern-Year Residents - Resident Fundamentals Course (OTA)
Second-Year Residents - Resident Basic Fracture Course (AO)
Third-Year Residents - Arthroscopy Course (AAOS or AANA)
Fourth-Year Residents –Resident Advanced Fracture Course (AO)
Fifth-Year Residents - AAOS Annual Meeting, Maine Review Course, and AO Fellowship
Didactics and Lectures
Grand Rounds, Friday morning, weekly
Orthopedic Journal Club (off-site), monthly
Morbidity and Modality, once per quarter
Resident Didactics (Basic Science and Subspecialty lecture), Wednesday morning, weekly
Foot and Ankle Conference, weekly
Hand Case Conference, Monday morning, weekly
Pediatric Orthopedics Indications Conference, weekly
Spine Case Conference, Thursday morning, weekly
Sports Medicine Conference, Monday morning, weekly
Total Joints Case Conference, Tuesday morning, weekly
OITE review series, yearly
Anatomy lecture series, yearly
Mandatory Seminars/Conferences
St. Luke's Annual Symposium
Edward T. Smith Conference
MD Anderson Cancer Institute Pathology Conference
Additional conferences as determined by the department
Heading
Resident Mentorship Program
Content
All junior level residents (PGY-1 and PGY-2) are assigned a senior-level resident (PGY-III and PGY-IV) mentor. The mentors are usually paired with the junior residents on the rotation schedule as well. This buddy system has been extremely effective for our residency training program. Residents are very comfortable in communicating with each other on the continual rigors of orthopedic training, as well as life outside of residency training. PGY-1 residents are initially assigned a PGY-3 resident mentor and these residents remain paired through the end of the PGY-2 year. Once that resident completes his or her PGY-2 year, they then become a mentor at the start of their PGY-3 year to an incoming PGY-1 resident.
Heading
Faculty Mentorship Program
Content
Not only are the junior residents given a resident mentor, but all trainees are assigned a faculty mentor for the duration of the residency training upon starting the program. This mentor acts as a liaison for the resident to the program director and chair. This faculty mentor also guides and advises the assigned resident on progression within the program and counsels when necessary. Resident mentees also rely on their mentors for career planning after residency.