Master
Content
The 2023 Annual Pathology and Immunology Trainee Research Symposium was held on Wednesday, April 19 as an in-person meeting with a hybrid option for remote attendees. The Program Committee hosted an exciting program, including a keynote address, invited speakers, as well as platform and poster presentations by the trainees. Recordings from the scientific program will be available soon at this site. 
Media Component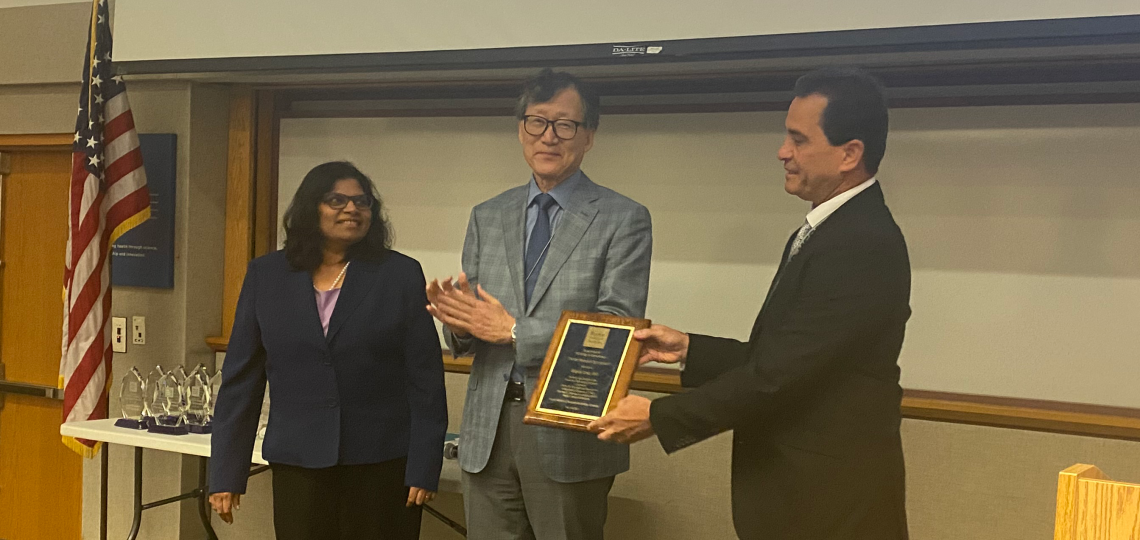 Content
The keynote speaker, Dr. Miguel Cruz, Ph.D., Professor in the Department of Medicine and the Division Chief of Thrombosis Research as well as the Co-Director for the Center for Translational Research on Inflammatory Diseases (CTRID) at the Michael E. DeBakey VA Medical Center of Baylor College of Medicine, gave an inspirational talk.
Members of the faculty, Drs. Ya Xu, Kevin Fisher and Stephanie Pangas presented their work. 
Trainees from basic sciences and clinical residents and fellows presented their work at the symposium. Trainees received awards for the best oral and poster presentation of their research work. In addition, two medical students – Zachary Kadow and Mark Montgomery– were recognized at the symposium with Stuart A. Wallace awards given by Drs. Martin M. Matzuk and James Versalovic.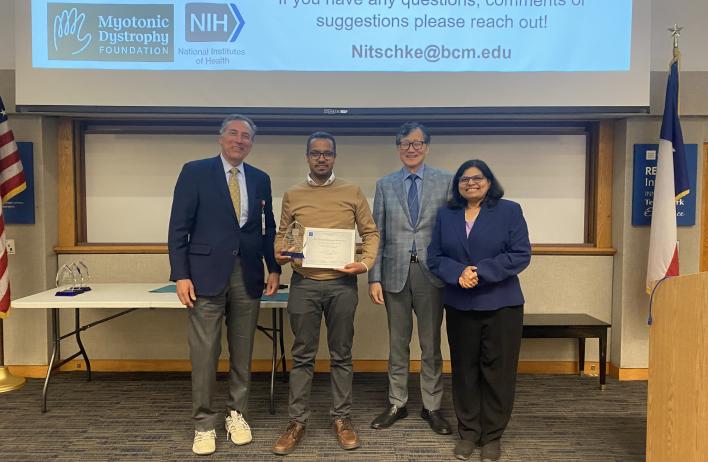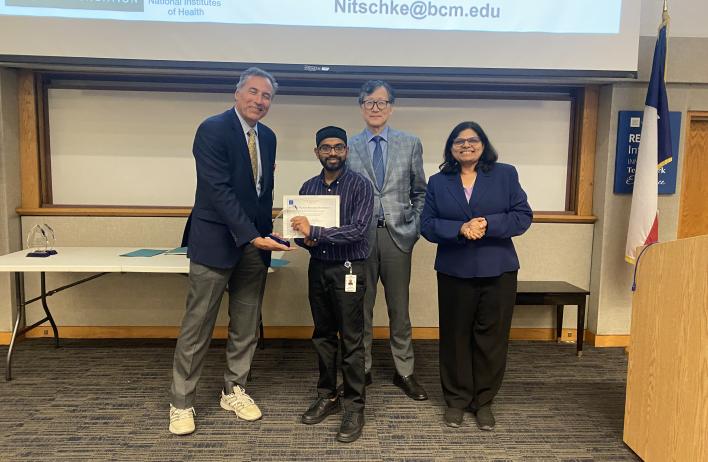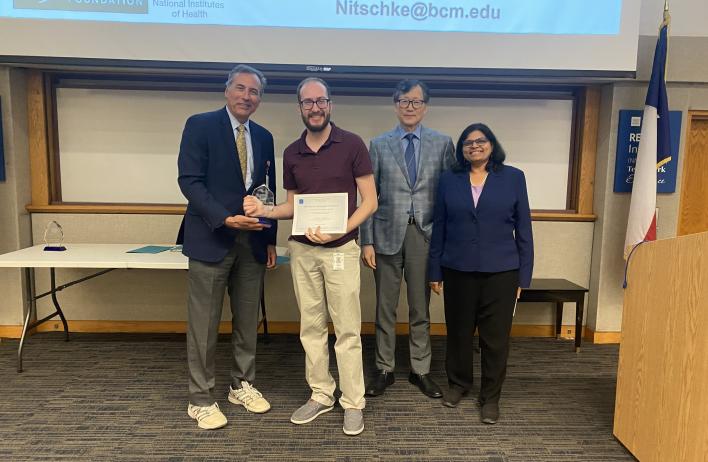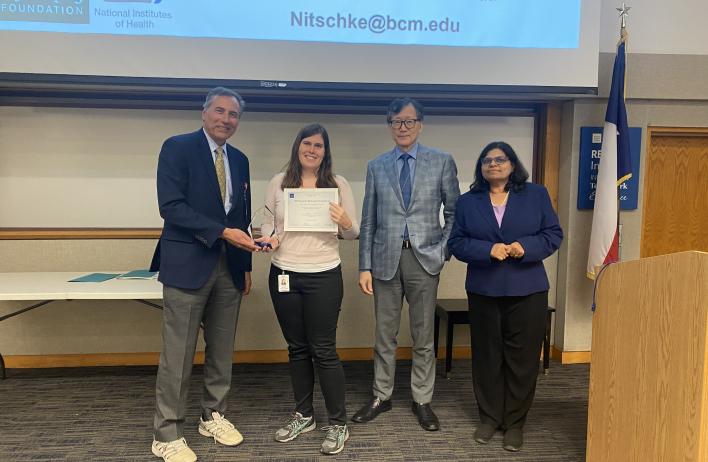 Heading
Oral Presentation Award Winners
Content
Clinical Resident
Mohamed Eltahir: PD-L1 Expression is Prevalent in Pediatric Large B-Cell Lymphomas (Faculty Mentor: Choladda Curry)
Clinical Fellow
Anil K. Chokkalla: Validation of MeMed-BV immunoassay for distinguishing bacterial vs. viral infection in a pediatric cohort (Faculty Mentor: Sridevi Devaraj)
Graduate Student
Matthew Seasock: Let-7 MicroRNA Controls AT2 Progenitor Stemness and Prevents Interstitial Lung Disease (Faculty Mentor: Antony Rodriguez)
Research Fellow
Larissa Nitschke: The Compensatory Mechanism of MBNL Paralogs and its Role in Myotonic Dystrophy Type 1 (Faculty Mentor: Tom Cooper)
Poster Presentation Award Winners
Clinical Resident
Kelsey Hummel: Evaluation of Performance of p16 Immunostaining in Cell Blocks for the Detection of Recurrence in HPV-Associated Cervical Malignancies (Faculty Mentor: Ramya P. Masand)
Clinical Fellow
Belkys C. Sanchez: Analytical Performance of a Rapid, Molecular Fungal Pathogen Panel for Direct Identification of Fungi from Aerobic Blood Culture Bottles (Faculty Mentor: James J. Dunn)
Graduate Student
Katarzyna Kent: Structure-function analysis of the OVCH2 domains and their roles in sperm maturation and male fertility (Faculty Mentor: Martin M. Matzuk)
Research Fellow
Meike E. van der Heijden: Dysfunction of Cerebellar Cortical and Nuclei Neurons Differentially Constrain Developmental Compensation for Motor and Social Deficits (Faculty Mentor: Roy V. Sillitoe)
Thank you for your support of the Trainee Research Symposium and we look forward to your participation next year! 
Trainee Research Committee
Drs. Thomas A. Cooper, Choladda V. Curry, William Decker, Sridevi Devaraj, Sagar Dhamne, Ashley Holloman, Martin M. Matzuk, Angshumoy Roy, Jun Teruya, Chief Residents (Drs. Gustafson and Levett), Associate Chief Residents (Drs. Eltahir and Platero Portillo). 
Special note of appreciation to Yvetter Boney, Rosario Guzman, and Susan Zapata for assistance with meeting planning.
See the 2022 Symposium