Master
Media Component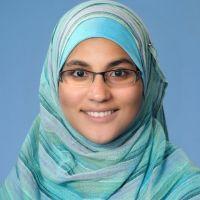 Content
Mentor: Charles Lin, Ph.D. Undergraduate major: Bachelor of Science in Biology, Chemistry, and Mathematics 
Undergraduate school: Mary Baldwin College 
Graduate School: Baylor College of Medicine- MD/PhD Program 
Research Interests: Transcriptional regulatory mechanisms as they relate to complex inflammatory signals 
What Advice Do You Have for Prospective Students? 
Identify the core scientific question that you are passionate about answering and always keep it in the forefront when deciding on new research areas to pursue or technologies to utilize. 
Why Did You Select the QCB program at BCM? 
The QCB program at BCM has a long history of training scientists working to harness the power of quantitative and computational tools to address biological questions. As an M.D./Ph.D. student, my choice to train at Baylor College of Medicine was driven primarily by a strong track record of training Ph.D. and M.D./Ph.D. students in computational biosciences. 
What is Your Research Interest? 
My core interests lie in the question of how cells integrate information and respond to complex changes in their environment. To that end, I have pursued work in understanding transcriptional regulatory mechanisms as they relate to complex inflammatory signals. We integrate genome wide measurements of transcriptional output, histone modifications, and transcription factor bindings to understand these processes. 
Why Did You Select Your Mentor? 
My research mentor, Dr. Charles Lin, was the faculty facilitator for a QCB journal club and he happened to select a paper authored by Uri Alon, who's work in mathematical biology I greatly admired. After that, I asked to rotate in the lab and found it to be the ideal combination of great computational and experimental methods, intriguing research questions, and wonderful people. 
What Aspects of Training Has Been Most Influential in Preparing For Your Intended Career? 
I have had the opportunity to work with many wonderful collaborators during my Ph.D. both at and outside of BCM. Not only did it allow me to develop additional technical and scientific skills, but it fostered good experiences in teamwork, communication, and project management which is foundational to the enterprise of scientific discovery. I anticipate that this network of collaborators and mentors will continue to be invaluable as my career evolves. 
Did Baylor's Location in the Texas Medical Center Enhance Your Experience? 
In my role as a medical student, BCM's location in the world's largest medical center has obvious advantages. However, I was surprised by how many benefits there were to my graduate education and research - there are huge numbers of scientists working at the interface of computation and biology and medicine across a variety of disciplines in addition to access to rich datasets and unique educational experiences. 
What Are Your Career Plans? 
Following completion of my M.D. after graduate school, I intend to complete a medical residency program and continue to be involved in research on the mechanisms of transcriptional regulation during that time. I feel that my training at BCM has exposed me to a variety of options including exciting opportunities in industry as well several styles of academic research careers so I'm excited to see how that evolves over time!