Master
Content
The Diploma in Tropical Medicine was first offered in Summer 2012. By the end of Summer 2021, 313 students completed one or more modules. A total of 159 students completed the diploma. The student population includes Baylor College of Medicine and out-of-state medical students, fellows, residents, a physician assistant, and physicians. Graduates have gone on to use the knowledge gained in this course to care for populations in the United States as well as around the country.
Read what our students have to say about their experiences in the interviews below:
Heading
Jill Weatherhead, M.D.
Content
Infectious Disease Fellow (adult and pediatric) at Baylor
Why did you choose to earn your DTM?
In medical school, I was lucky enough to combine my interest in infectious diseases with overseas rotations in Peru, Bolivia and Zambia. Prior to travel, we had to take an elective in tropical medicine and parasitology. The faculty member who taught the course encouraged those of us with interest in the field to pursue a DTM.
Practicing in the United States, there are insufficient opportunities to see enough of these diseases for robust training. I saw a DTM course as a means to learn from the experience of others. I originally planned to take a course overseas but was fortunate that Baylor launched the National School of Tropical Medicine while I was here for my fellowship.
What do you believe was the most valuable part of the DTM experience?
The lab practicum. We were observing the same diagnostic materials one sees when working in the field. The skills we developed are directly applicable, especially for someone like me who wants to travel to endemic areas.
What surprised you about the course?
How integrated tropical medicine needs to be across all specialties. Before taking the course, I knew that understanding of these diseases processes was important for me with my interest in infectious diseases and desire to work abroad. Through the course, I discovered that tropical medicine is in fact integrated across all specialties for everyone involved in healthcare regardless of role. Tropical diseases are becoming more prevalent in our communities. Healthcare professionals not well versed in them may miss these diseases in patients and lack the knowledge of how to control them.
Since earning your DTM, how have you used the knowledge you gained in the course to help in your work?
After I completed the DTM course I traveled to Botswana as part of the Baylor International Pediatric AIDS Initiative (BIPAI) course in pediatric HIV and to Nepal to study travel medicine and high altitude medicine. These experiences gave me confidence in the knowledge, skills and understanding I now have about different diseases processes as well as diagnostics and therapeutic interventions.
The DTM course also helped me focus on the area of research I am now pursuing – basic laboratory studies of round worm. I plan to continue this research as I transition from a fellow to a faculty member at Baylor in pediatrics. The faculty I met as a young fellow in the DTM program have continued to be invested in my career development and serve as my mentors as I grow both in the clinic and the laboratory.
What would you tell someone considering taking the DTM course?
It is hard work and you have to be dedicated to the material, but it is extremely applicable regardless of your career intentions. This subject matter will play a role in your career in some way, especially if you practice in a large metropolitan area with a lot of immigration and diversity. In addition, the lectures are engaging and hold your attention throughout the course. Lastly, it is possible to balance this the demands of the course with your other obligations. I took module two while on service. Thanks to the online format, I could watch the videos in the evening when I got home from work.
Heading
Jenny Brockington, D.O.
Media Component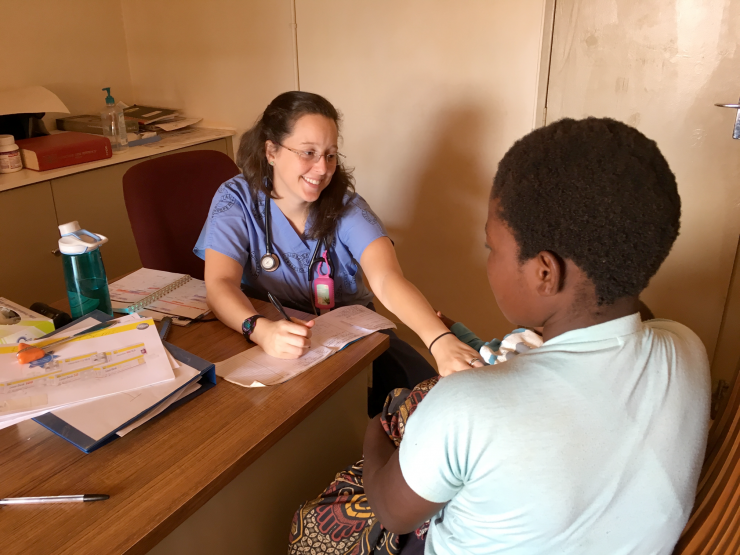 Content
Why did you choose to earn your DTM?
While a family medicine resident at Baylor College of Medicine I had the opportunity to attend some lectures that were part of the DTM course. I quickly realized the knowledge offered was exactly what I needed for my future serving as a physician in Africa.
What do you believe was the most valuable part of the DTM experience?
The most valuable time in the DTM class was the laboratory component. Though I do not enjoy "bench work," the hands-on clinical skills I obtained carried over into my work in Malawi and gave me the confidence to handle diagnostic complications. It gave me a stronger grasp on microbiology and parasitology as well as confidence in using a microscope and making a diagnosis on my own.
The other most valuable part of the DTM program is Dr. Woc-Colburn and her dedication to bringing the developing world into the classroom. She presented complex medical ideas as "people with illness" instead of just another disease process. She constantly challenged us to consider diseases and treatment plans in different cultural context.
Since earning your DTM, how have you used the knowledge you gained in the course to help in your work?
I completed the DTM program in the spring of 2014 and moved to rural Malawi in January 2015. I worked alongside my husband (a pediatrician) in a rural outpatient clinic, which later opened a maternity ward. From the first days, I depended heavily on the knowledge I gained in the DTM program, from malaria to typhoid, malnutrition to tuberculosis and HIV. No day was ever the same.
On the days when our lab tech was out, I felt confident using the microscope to evaluate slides for malaria diagnosis. I was comfortable with diagnosis and treatment of tropical skin diseases, TB and HIV management.
My knowledge from the DTM in addition to the two years of clinical work in rural Malawi has given me a strong foundation for treating the whole person, physical and spiritual. I love being a physician in Africa and have just completed a two-year commitment in Malawi. We are now heading back to work in a mission hospital in Kenya and have committed to working in Southeast Africa for at least three years.