Master
Media Component

Credit
© 2016-2019 Healthwise, Incorporated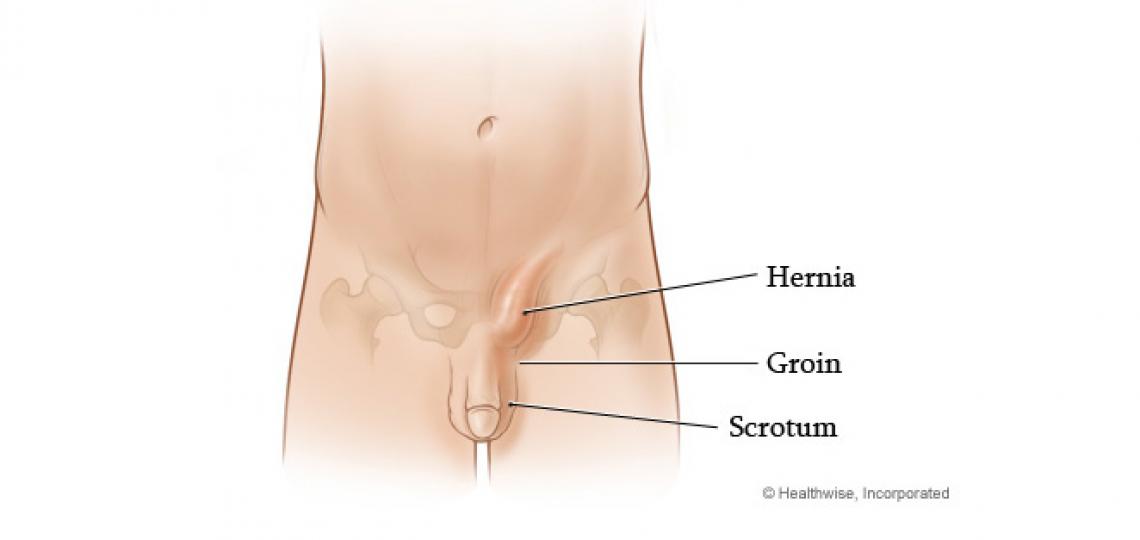 Heading
Laparoscopic inguinal hernia repair: Overview
Content
Laparoscopic hernia repair is similar to other laparoscopic procedures. General anesthesia is given, and a small cut (incision) is made in or just below the navel. The abdomen is inflated with air so that the surgeon can see the abdominal (belly) organs.
A thin, lighted scope called a laparoscope is inserted through the incision. The instruments to repair the hernia are inserted through other small incisions in the lower abdomen. Mesh is then placed over the defect to reinforce the belly wall.
There are many things to think about when deciding if you should have inguinal hernia repair surgery, such as whether your hernia is incarcerated or strangulated and whether you have other conditions that need to be addressed before hernia repair surgery is appropriate.
Laparoscopic hernia repair is different from open surgery in the following ways:
A laparoscopic repair requires several small incisions instead of a single larger cut.
If hernias are on both sides, both hernias can be repaired at the same time without the need for a second large incision.
Laparoscopic surgery allows the surgeon to examine both groin areas and all sites of hernias for defects.
Also, the patch or mesh can be placed over all possible areas of weakness, helping prevent a hernia from recurring in the same spot or developing in a different spot.
General anesthesia is needed for laparoscopic repair. Open hernia repair can be done under general, spinal, or local anesthesia.
Heading
Why is laparoscopic inguinal hernia repair done?
Content
Surgical repair is recommended for inguinal hernias that are causing pain or other symptoms and for hernias that are incarcerated or strangulated. Surgery is always recommended for inguinal hernias in children.
Laparoscopic surgery repair may not be appropriate for people who:
Have an incarcerated hernia.
Cannot tolerate general anesthesia.
Have bleeding disorders such as hemophilia or immune thrombocytopenic purpura (ITP).
Are taking a medicine (called a blood thinner) that prevents blood clots.Have had many abdominal surgeries. Scar tissue may make the surgery harder to do through the laparoscope.
Have severe lung diseases such as emphysema. The carbon dioxide used to inflate the abdomen may interfere with their breathing.
Are pregnant.
Are extremely obese.
Laparoscopic hernia repair usually is not done on children. But a laparoscope may be used during open hernia repairs in children to explore the opposite groin for a hernia. This can be done by inserting the laparoscope into the side that is being operated on and looking at the opposite side. If a hernia is present, the surgeon can repair both sides during the same operation.
Heading
Open inguinal hernia repair (herniorrhaphy, hernioplasty)
Content
For open hernia repair surgery, a single long incision is made in the groin. If the hernia is bulging out of the abdominal wall (a direct hernia), the bulge is pushed back into place. If the hernia is going down the inguinal canal (indirect), the hernia sac is either pushed back or tied off and removed.
The weak spot in the muscle wall—where the hernia bulges through—traditionally has been repaired by sewing the edges of healthy muscle tissue together (herniorrhaphy). This is appropriate for smaller hernias that have been present since birth (indirect hernias) and for healthy tissues, where it is possible to use stitches without adding stress on the tissue. But the surgical approach varies depending on the area of muscle wall to be repaired and the surgeon's preference.
Mesh patches of synthetic material are now being widely used to repair hernias (hernioplasty). This is especially true for large hernias and for hernias that reoccur. Patches are sewn over the weakened area in the abdominal (belly) wall after the hernia is pushed back into place. The patch decreases the tension on the weakened belly wall, reducing the risk that a hernia will recur.
Open surgery is different from laparoscopic surgery for hernia repair.
An open surgery requires one larger incision instead of several small incisions. If hernias are on both sides, a second incision will be needed to fix the other hernia. Laparoscopic surgery allows the surgeon to repair both hernias without making more incisions. Open hernia repair can be done under general, spinal, or local anesthesia. Laparoscopic repair requires general anesthesia.
© 2016-2019 Healthwise, Incorporated
Heading
Pediatric Hernia Repair