Master
Heading
Image of the Month: October 2022
Media Component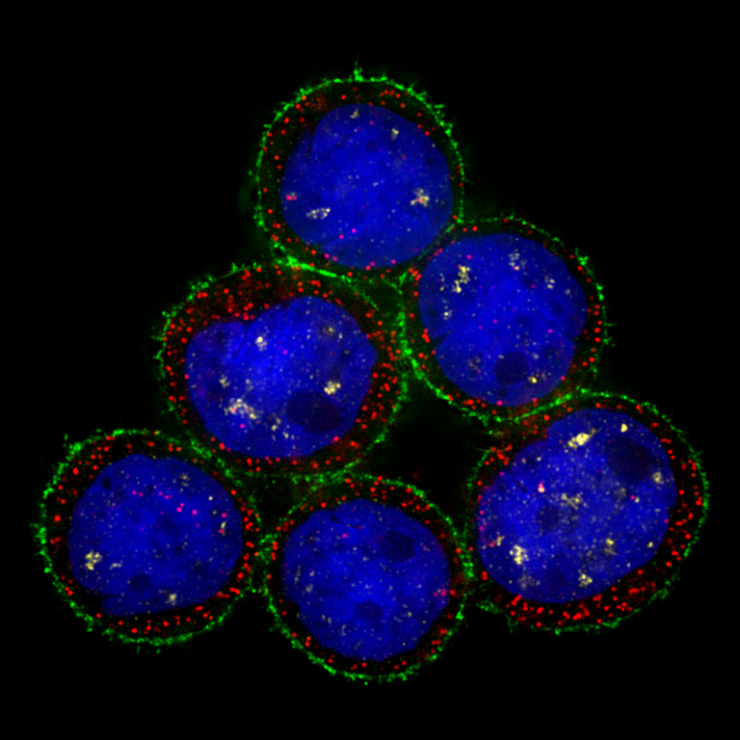 Content
High resolution deconvolution microscopy-based image of MDA-MB-453 human breast cancer cells simultaneously labeled by immunofluorescence (Her-2, Green), DNA (DAPI, Blue, nucleus) and mRNA FISH (Malat1, Yellow; GAPDH, Red).
Each month the Baylor College of Medicine blog, From the Labs, features an image from our labs and cores. For the month of October 2022, the Integrated Microscopy Core's image was published in the blog. This image also represents BCM's research efforts durning Breast Cancer Awareness Month by featuring human breast cancer cells.
View Article
Content
The Integrated Microscopy Core is an institutional core facility supported by the Advanced Technology Cores at Baylor College of Medicine, the NCI Comprehensive Dan L Duncan Cancer Center, the TMC Digestive Disease Center and Cancer Prevention and Research Institute of Texas.
The core is designed to provide high-quality microscopy and analytics services through availability of state-of-the-art imaging instrumentation, image analysis, one-on-one training by expert staff, plus free consultation for experimental setup, data acquisition and analysis.
The IMC covers most of the investigators' needs in the areas of light microscopy with particular emphasis on high throughput/high content phenotypic screening (assay development/validation), live imaging, multi-dimensional spatial analysis in tissue and cell culture samples, and 3D culture models imaging.
Heading
Equipment and Services
Content
Free consultation in experimental design and data interpretation (by appointment only)
Tech assist in experiment setup, execution and imaging (limited)
Laminar flow hood and CO2 incubator for limited-time cell maintenance and live experiments (virus or bacteria require proper approval)
Heading
Publication Acknowledgement for Cores
Content
Core name: Integrated Microscopy Core
Personnel: Michael A. Mancini, Ph.D., Academic Director; Fabio Stossi, Ph.D., Core Director; Elina Mosa
Grants supporting the core: The Integrated Microscopy Core is supported by the Center for Advanced Microscopy and Image Informatics (CAMII) with funding from NIH (DK56338, CA125123, ES030285), and CPRIT (RP150578, RP170719).