Master
Media Component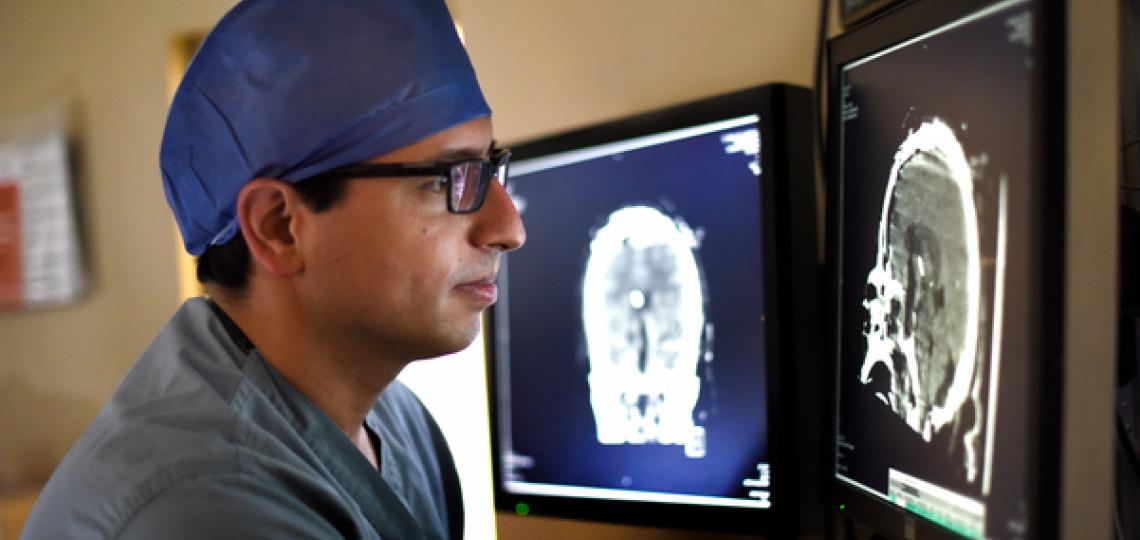 Content
The Dan L Duncan Comprehensive Cancer Center at Baylor St. Luke's Medical Center assembles a renowned group of experts specializing in neurosurgery, medical oncology, radiation oncology, neuropathology, and neuroradiology. This multidisciplinary team collaborates to create individualized treatment plans for patients with cancers of the brain and spine. Our skilled and compassionate surgeons, physicians, and staff provide the highest quality of care for our patients with the utmost respect for privacy. If you have questions or want to make an appointment, call (713) 798-2262. 
Baylor College of Medicine is a participant of the Brain Tumor Trials Collaborative (BTTC), led by the NCI's Center for Cancer Research.
Request an Appointment
Heading
There's Every Reason to Choose the Duncan Cancer Center
Terms

Item Definition
Every patient seen at the Duncan Cancer Center for brain or spine cancer is seen by our multidisciplinary tumor board. This board is comprised of neurosurgeons, neuro-oncologists, radiation oncologists, neuroradiologists, and neuropathologists to ensure our patients receive a comprehensive treatment plan.

Item Definition
Our neurosurgeons are experts in novel surgical techniques, including Laser Interstitial Thermal Therapy, to treat primary or metastatic brain tumors. Our team is also equipped to do awake craniotomy for the identification of critical brain functions during surgery.
 

Item Definition
Our physicians are one of only two systems in South Texas using CyberKnife, one of the most advanced radiosurgery systems available.
Heading
Benign Tumors We Treat
Content
Acoustic schwannomas 
Hemangioblastomas 
Meningioma
Heading
Malignant Tumors We Treat
Content
Astrocytoma
Ependymoma
Glioblastoma
Low-grade gliomas 
Medulloblastoma
Oligodendroglioma
Heading
Other Cancers We Treat
Content
Metastatic brain tumors 
Leptomeningeal disease 
Pituitary Tumors 
Syndromic Cases including neurofibromatosis 1 and 2 
Tuberous sclerosis, including brain lesions 
 
Heading
Spine Tumors We Treat
Content
Metastatic spine cancer 
Primary spine cancer including osteosarcomas and chondrosarcomas
Spinal cord tumors 
 
Heading
About Genetic Testing
Content
We perform extensive genetic testing for our brain tumor patients to discover mutations that may be actionable.