Master
Heading
About the Program
Media Component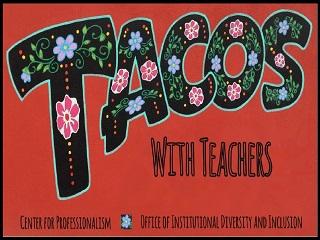 Content
The Center for Professionalism and the Office of Community Engagement & Health Equity have initiated a new activity at the College. The goal of the Tacos with Teachers is for selected Baylor teachers to give inspirational talks about how they have found meaning in their careers, what keeps them motivated, maintaining connection and joy in their work, and their career paths. These breakfast sessions are intended to be informal and to encourage an open discussion among the participants and the teacher. Each session has a limited number of seats-please RSVP to institutionaldiversity@bcm.edu or ProfessionalismMatters@bcm.edu to reserve your seat.
Terms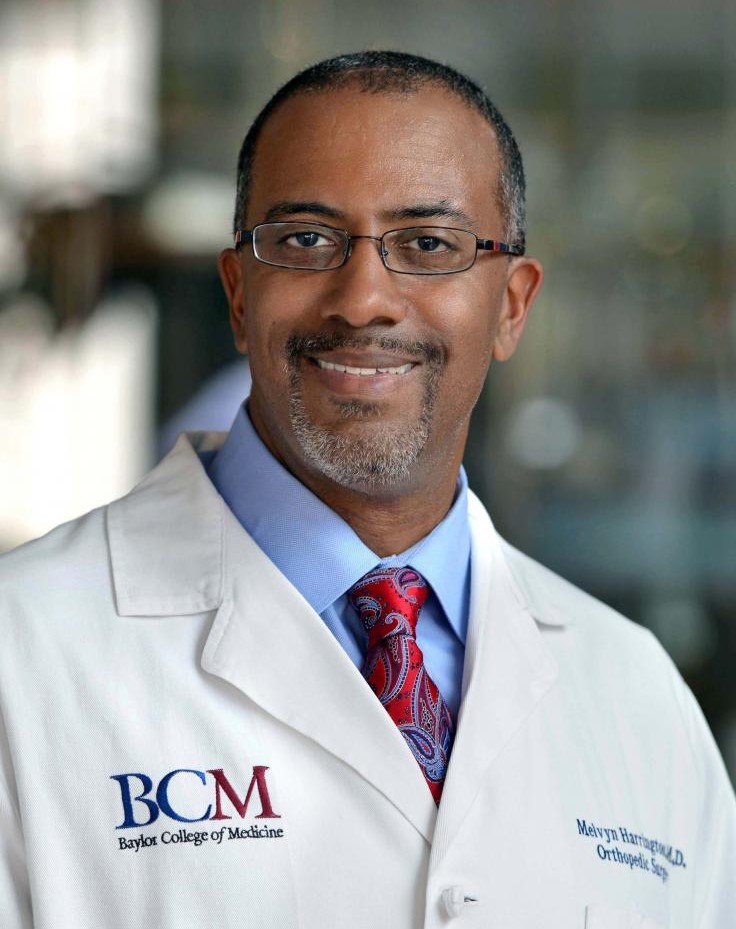 Feb. 18, 2020 from 8-9 a.m. | Dr. Melvyn A. Harrington Jr.
Item Definition
Melvyn A. Harrington Jr., M.D., is professor, Residency Program Director, Adult Reconstruction Fellowship Director, and Vice-chair for Diversity and Inclusion for the Department of Orthopedic Surgery at the Baylor College of Medicine. He graduated from Vanderbilt University School of Medicine and completed a residency at the University of California Davis followed by a fellowship at Harvard University / Massachusetts General Hospital. He is a board-certified orthopaedic surgeon specializing in arthritis and joint replacement surgery. Dr. Harrington is past president of the J. Robert Gladden Orthopedic Society and is serving his second term on the Diversity Advisory Board of the AAOS. He is on the Executive Committee of the American Orthopaedic Association and the Council of Residency Directors' Academic Committee.

Item Definition
Clifford Dacso, M.D., M.A., M.P.H., professor of Molecular and Cellular Biology & Medicine at Baylor College of Medicine is an internist who found a welcoming intellectual home in basic science in the molecular and cellular biology, which allows him access to the spectacular vista of the fundamental  mechanisms of human biology and an understanding of how things can go wrong and cause disease. In his career, he has assumed many roles from investigator, to clinician, to administrator, to entrepreneur and now back again. Throughout all that time, Dr. Dacso has been an educator and student with a love for clinical practice and a consistent desire to be better at it every day. His interests also include global health via the Institute for Collaboration in Health that he co-founded with his son.

Nov. 12, 2019 | Dr. Maria Elena Bottazzi
Item Definition
Maria Elena Bottazzi, Ph.D., is the associate dean of the National School of Tropical Medicine; professor of Pediatrics and Molecular Virology & Microbiology; and co-director of the TCH Center for Vaccine Development. Dr. Bottazzi is an internationally recognized scientist with more than 18 years of experience in translational research and vaccine development for neglected tropical diseases. Dr. Bottazzi's philosophy focuses on motivating and empowering peers and young generations of scientists, building strong relationships, and positively contributing to scientific and global health effectiveness. She is recipient of multiple extramural grants and awards and has authored or co-authored of more than 100 scientific papers.

Oct. 8, 2019 from 7:30-8:30 a.m. | Dr. John Coverdale
Item Definition
John Coverdale, M.D., M.Ed., is a professor of Psychiatry and Behavioral Sciences & Medical Ethics and Health Policy. Dr. Coverdale's primary teaching occurs at the bedside in Houston's public hospital, where he routinely hosts residents and medical students. Learners witness firsthand how he models patience, humility, and respect for severely ill psychiatric patients. He has won multiple teaching awards at Baylor, including the Alpha Omega Alpha (AOA) Robert J Glaser Distinguished Teacher Award and the John P. McGovern Outstanding Teacher Award for the Clinical Sciences.

Sept. 10 | Dr. Tamara Ortiz-Perez
Item Definition
Tamara Ortiz-Perez, M.D. associate professor of Radiology received her Doctor of Medicine degree at University Of Puerto Rico School Of Medicine and completed her residency and fellowship at Baylor College of Medicine. Her professional interests include breast cancer screening and detection, patient-centered and multidisciplinary care, community outreach, and education. Dr. Ortiz-Perez also serves as a Faculty Senator, Inclusion and Excellence Council member, and Faculty Inclusion Ambassador for her department.
Terms

Aug. 13, 2019 | Dr. James W. Lomax
Item Definition
James W. Lomax, M.D. professor of Psychiatry and Behavioral Sciences and Brown Foundation Chair of Psychoanalysis received his Doctor of Medicine degree and completed his residency at Baylor College of Medicine. Dr. Lomax is a psychoanalyst whose clinical effort involves psychotherapeutic and psychoanalytic treatment of individuals with anxiety, mood, and personality disorders, as well as those with complicated grief, traumatic loss, and other adjustment reactions. He is interested in the interface between psychiatry (from a psychoanalytic perspective), religion, and spirituality.

Item Definition
Patrice A. Harris, M.D., MA, was elected president–elect of the American Medical Association in June 2018. A psychiatrist from Atlanta, Dr. Harris has diverse experience as a private practicing physician, public health administrator, patient advocate and medical society lobbyist. She has served on the board of the American Psychiatric Association (APA) and was an APA delegate to the AMA. She is also an adjunct assistant professor in the Emory Department of Psychiatry and Behavioral Sciences.

May 14, 2019 | Dr. Alison Bertuch
Item Definition
Alison Ann Bertuch, M.D., Ph.D., associate professor of Pediatrics, Molecular and Human Genetics, and Program in Integrative Molecular and Biomedical Sciences & assistant dean for curriculum in the Graduate School of Biomedical Sciences received her Doctor of Medicine and Doctor of Philosophy degrees from the University of Rochester. She completed residency in Pediatrics and a fellowship in Pediatric Hematology/Oncology at Baylor College of Medicine. She serves as director of the Bone Marrow Failure Program at Texas Children's Hospital. Dr. Bertuch's clinical interests include oncology, osteosarcoma, and bone marrow failure disorders. Her professional interest lie in basic mechanisms of telomere maintenance, structure, and function and DNA repair in the yeast model organism and human cells.

April 16, 2019 | Dr. Antonie Rice
Item Definition
Antonie Rice, Ph.D., assistant professor of Pediatrics, assistant dean of Education and Student Affairs for the National School of Tropical Medicine, and director of training in the Office of Community Engagement & Health Equity received both his Masters of Science degree and Doctorate of Philosophy degree in Pharmaceutical Chemistry from the University of Kansas. Dr. Rice was previously associate dean of School of Arts and Sciences, as well as department chair of Chemistry and Physics at the University of Arkansas at Pine Bluff (UAPB). He has research interest in the areas of drug delivery, anticancer drug development, and Alzheimer's disease research.

Feb. 12, 2019 | Dr. David Wesson
Item Definition
David Wesson, M.D., a professor of surgery and pediatrics and associate surgeon-in-chief at Texas Children's Hospital, completed his medical degree and pediatric surgery residency at the University of Toronto/The Hospital for Sick Children, followed by a research fellowship at Harvard Medical School/Brigham and Women's Hospital. Dr. Wesson has specialized expertise in the treatment of pediatric gastrointestinal disorders, especially inflammatory bowel disease. He has research interests in both the prevention of pediatric injury in the public health context and clinical treatment of childhood trauma. Dr. Wesson is board certified by the American Board of Surgery in Surgery and Pediatric Surgery.

Nov. 13, 2018 | Dr. Timothy Porea
Item Definition
Timothy Porea, M.D., MPH is an associate professor of pediatrics and clinical director of the Texas Children's Cancer and Hematology Centers. He is also a retired medical doctor (Captain) from the United States Navy and advisor for Baylor medical students in the military. Dr. Porea graduated from Baylor with his medical degree and completed his residency at the Naval Medical Center in San Diego, Calif., followed by his fellowship in pediatric hematology/oncology at Baylor. Dr. Porea is a board certified physician-specialist in pediatric hematology/oncology and a member of the American Board of Pediatrics.

Oct. 16, 2018 | Dr. Susan Blaney
Item Definition
Susan Blaney, M.D. is a professor of pediatrics, director of Texas Children's Cancer and Hematology Centers, executive vice chair of the department of pediatrics, and section chief of hematology/oncology. She is a board-certified pediatric oncologist whose career has focused on the development of new agents and therapeutic strategies for children with recurrent or refractory cancer, particularly for those with malignancies of the central nervous system. Dr. Blaney has extensive experience in clinical translational research and previously served as the principal investigator of the Children's Oncology Phase 1 and Pilot Consortium, as well as one of the founding members of the Pediatric Brain Tumor Consortium. She has served as a mentor to many pediatric medical students, residents, fellows and faculty who are current or developing leaders in the field of pediatric oncology.

Sept. 18, 2018 | Dr. Kjersti Aagaard
Item Definition
Kjersti Aagaard, M.D., Ph.D. is a professor of obstetrics and gynecology and vice chair of research. She specializes in the field of Maternal-Fetal Medicine, and has specialty clinical interests in preterm birth, stillbirth, maternal obesity and cardiac disorders, ultrasound diagnosis and testing for fetal anomalies and genetic disorders, and management of pregnancies complicated by infections. Dr. Aagaard's research interests include both basic science investigations and translation into clinical research. She is internationally recognized for her work on maternal obesity and nutrition, genomics, the microbiome and prevention of preterm birth. Dr. Aagaard completed medical school and residency at the University of Minnesota Medical School and her Ph.D. at the Mayo Clinic Graduate School of Biomedical Sciences.

May 8, 2018 | Dr. Melissa Bondy
Item Definition
Melissa L. Bondy, Ph.D., M.S. is a professor of epidemiology and population sciences in the Department of Medicine. Her research focus is in genetic and molecular epidemiology and is at the forefront of developing innovative ways to assess the roles of heredity and genetic susceptibility in the etiology of cancer. Dr. Bondy is a McNair scholar and associate director of Cancer Prevention and Population Sciences in the Dan L Duncan Comprehensive Cancer Center. She earned her Bachelor of Science degree from The University of Texas at Austin and M.S. and Ph.D. degrees from The University of Texas School of Public Health. Dr. Bondy also serves as the 2017-2018 chairperson of the American Association for Cancer Research's Molecular Epidemiology Working Group.
Terms

Item Definition
Dr. Cynthia Butel served as the inaugural guest teacher for Tacos with Teachers Tuesday, Feb. 14, 2017. Dr. Butel is a distinguished service professor and recently retired as chair of the Department of Molecular Virology and Microbiology. She completed both her Ph.D. and postdoctoral fellowship at Baylor. Her area of expertise is on polyomavirus pathogenesis of infections and disease.