Master
Content
Thomas Meloncon is a native Houstonian and is nationally known for his hard-hitting, yet witty prose and plays. He has received numerous awards, including a Bronze Medallion from the City of Houston (1989) for his Off-Broadway Debut of the Diary of Black Men, and two Certificates of Congressional Recognition. Mr. Meloncon's poetry books are titled Poetry in E Minor and Recollections.
His touring productions, including The Diary of Black Men, are Jump the Broom, The Marriage Test, and Whatever Happened to Black Love." Mr. Meloncon has produced a variety of works for the American Cancer Society, The University of Texas-Medical Branch at Galveston, Harris County Precinct One Seniors Drama Program, the African American Healthy Marriage Initiative, the Dan L Duncan Comprehensive Cancer Center at Baylor College of Medicine, the Susan G. Komen Breast Cancer Foundation, and the Houston Area Women's Center.
Mr. Meloncon is an associate professor and director of Theatre at Texas Southern University, in the Department of Visual and Performing Arts. He is honored to present a creative work that may influence and save lives.
Media Component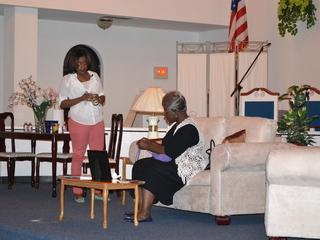 Content
The Marriage Test was produced to educate the public about colorectal cancer in an entertaining and humorous way, while informing audiences about the importance of early screening and detection. It was about one family's emotional reactions in learning that loved ones had been diagnosed with the disease. The play reveals how they react to this life-altering news and how they deal with the choices they must make about their lives and health with strength, humor, and wisdom.
The Marriage Testis a full-length play in English.
Heading
Before Time Runs Out
Content
The story centers on Deloris Jones and Sam Williams. Sam, who is single, discovers that Deloris has breast cancer. Though he loves her, the reality of breast cancer causes him to question his role in her life. Deloris is forced to choose between life and losing the man in her life. With the help of friends, Deloris comes face-to-face with her truth.
Before Time Runs Out is a full-length play in English