Master
Heading
Northwest Community Health Center
Content
The Northwest Health Center Track serves a resource-poor and medically underserved population in northwest Houston and prepares residents to deal with the multifaceted issues involved in serving urban populations in Houston and around the world. The Department of Family and Community Medicine has targeted the track to emphasize global health as a means to help residents develop a sense of global responsibility and to serve the needs of multicultural populations in Houston and globally.
With proper planning, it is possible for residents to enroll in the Diploma in Tropical Medicine course, through the National School of Tropical Medicine at Baylor College of Medicine. This is a two-month intensive training course in tropical and travel medicine and public health. It is offered in two-week modules (total of four modules) that can be taken individually or as a continuous series.
Thank you for your interest in our program. We welcome and review all applications to our residency program. All applicants must register through ERAS and NRMP and comply with all required documentation. View our admissions information for details on applying.
Content
Four Month Electives: Type and location of electives is based on funding; sample electives include Pediatric Endocrinology, Adolescent Medicine , Procedures Clinic, Pain Management, Gynecology-Oncology, AAI and many others.
Prior to beginning residency and during intern orientation, all interns will become BLS and ACLS-certified.
In August of each year, interns will attend the Advanced Life Support in Obstetrics Course for certification.
Continuing Medical Education: For all PGY-2 and PGY-3's, we allocate $500 and/or five days of CME.
Media Component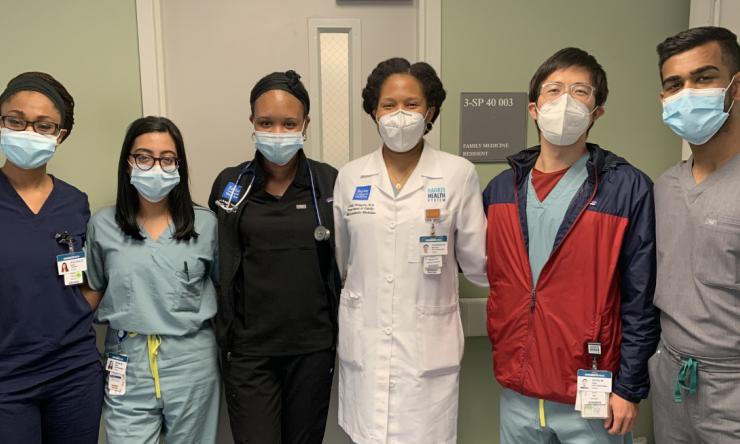 Heading
Inpatient Rotation
Content
Residents gather at Ben Taub Hospital for the inpatient rotation. Left to right: Drs. Chinwe Ezenna, Rida Khan, Chinwe Nwokocha, Crystal Nwagwu (attending physician), Mike Ren, and Tanvir Ahmed.