Master
Media Component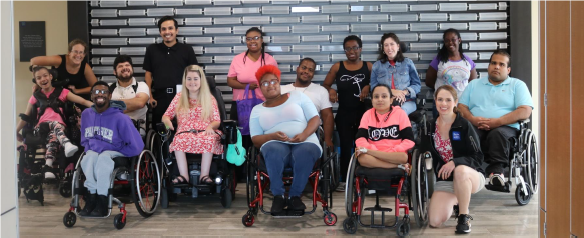 Content
During the transition from childhood to adulthood, adolescents and young adults with intellectual/developmental disabilities (AYAIDD) often change healthcare providers, clinics and hospitals, insurance and home and community-based services (HCBS), school and community activities, and decision-making responsibility. The goal of health care transition is "to maximize lifelong functioning and potential through the provision of high quality, developmentally appropriate health care services that continue uninterrupted as the individual moves from adolescence to adulthood". To mitigate these challenges and promote independence and self-efficacy in navigating healthcare and HCBS, the Baylor Transition Medicine Clinic, with input from multiple stakeholders, developed a health care transition peer mentorship program for individuals with IDD. This program includes training on the mentor/mentee roles and responsibilities, professional boundaries, motivational interviewing, and goal setting; five group sessions in which mentors lead mentees in learning about a transition to adult care topic and SMART goal setting; mentor/mentee one-on-one follow-up; and a graduation celebration.
 
Introductory Course
This session discusses an overview of program, mentoring/presentation tips (mentors), and goal-setting methods (both mentors/mentees). A parent orientation is also included.
Lesson 1: Medical Summary and Decision Making 
This session walks the participants through creating a personal medical summary, how to give that information to their physician, and the different levels of decision making support available to them.
 
Lesson 2: Insurance and Waivers
In this session, the participants learn how to read their insurance card, how to change their Medicaid plan if necessary, and other funding options that are available to them.
 
Lesson 3: Education, Volunteering and Employment
This lesson strives to cover the activities available to participants after they have graduated from the school system. Many young adults do not recognize opportunities in the community beyond traditional employment, and this session is focused on showing them where else they can look.
 
Lesson 4: Self Care
Both mental and physical self care is important for any person, and this session walks participants through several easy ways they can incorporate that self care into their daily life. 
 
Lesson 5: Transportation and Independent Living
Independent living and transportation are two huge issues to any young adult attempting to transition into adulthood. This session talks through the different opportunities available to them in their community and how they could take advantage of them to gain that independence.
 
Graduation
This session is simply meant to be a celebration of all the mentors and mentees have learned and accomplished over the last 5 sessions. Each participant will receive a completion certificate and complete a storyboard worksheet to be showcased at the graduation ceremony.
Download Web-Based or In-Person Curriculum