Master
Media Component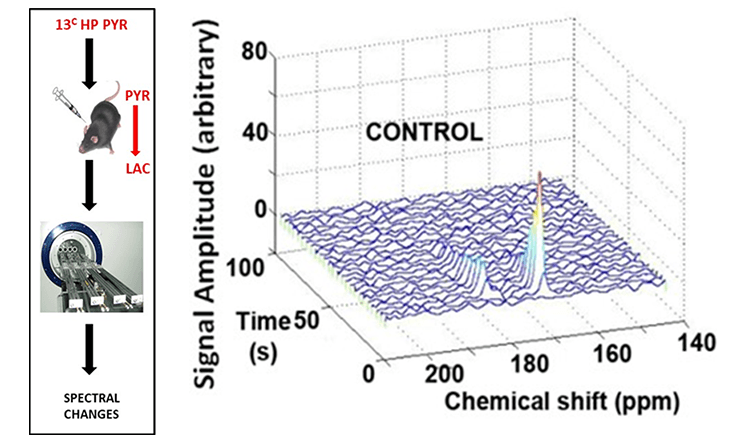 Content
Matching treatment intensity to disease biology is critical to achieving a high therapeutic index which maximizes oncologic control and minimizes normal tissue toxicity. Our investigators utilize conventional (genomic, transcriptomic, proteomic) and novel radiomic and pathomic biomarkers of disease aggressiveness and treatment responsiveness to risk-stratify head and neck cancer patients prior to treatment initiation. These static risk-stratification approaches are augmented by the deployment of state-of-the-art metabolic imaging platforms which can interrogate treatment response in real-time in order to develop adaptive, individualized risk stratification profiles for patients with head and neck cancer.
Recent Publications:
Sandulache VC, Chen Y, Feng L, William WN, Skinner HD, Myers JN, Meyn RE, Li J, Mijiti A, Bankson JA, Fuller CD, Konopleva MY, Lai SY. Metabolic interrogation as a tool to optimize chemotherapeutic regimens. Oncotarget. 2017 Mar 14;8(11):18154-18165. 
Sandulache VC, Chen Y, Skinner HD, Lu T, Feng L, Court LE, Myers JN, Meyn RE, Fuller CD, Bankson JA, Lai SY. Acute Tumor Lactate Perturbations as a Biomarker of Genotoxic Stress: Development of a Biochemical Model. Mol Cancer Ther. 2015 Dec;14(12):2901-8. 
Corredor G, Toro P, Koyuncu C, Lu C, Buzzy C, Bera K, Fu P, Mehrad M, Ely KA, Mokhtari M, Yang K, Chute D, Adelstein DJ, Thompson LDR, Bishop JA, Faraji F, Thorstad W, Castro P, Sandulache V, Koyfman SA, Lewis JS, Madabhushi A. An Imaging Biomarker of Tumor-Infiltrating Lymphocytes to Risk-Stratify Patients With HPV-Associated Oropharyngeal Cancer. J Natl Cancer Inst. 2022 Apr 11;114(4):609-617.
Wilde DC, Castro PD, Bera K, Lai S, Madabhushi A, Corredor G, Koyuncu C, Lewis JS Jr, Lu C, Frederick MJ, Frederick AM, Haugen AE, Zevallos JP, Sturgis EM, Shi J, Huang AT, Hernandez DJ, Skinner HD, Kemnade JO, Yu W, Sikora AG, Sandulache VC. Oropharyngeal cancer outcomes correlate with p16 status, multinucleation and immune infiltration. Mod Pathol. 2022 Aug;35(8):1045-1054. 
Koyuncu CF, Lu C, Bera K, Zhang Z, Xu J, Toro P, Corredor G, Chute D, Fu P, Thorstad WL, Faraji F, Bishop JA, Mehrad M, Castro PD, Sikora AG, Thompson LD, Chernock RD, Lang Kuhs KA, Luo J, Sandulache V, Adelstein DJ, Koyfman S, Lewis JS Jr, Madabhushi A. Computerized tumor multinucleation index (MuNI) is prognostic in p16+ oropharyngeal carcinoma. J Clin Invest. 2021 Apr 15;131(8):e145488.