Master
Media Component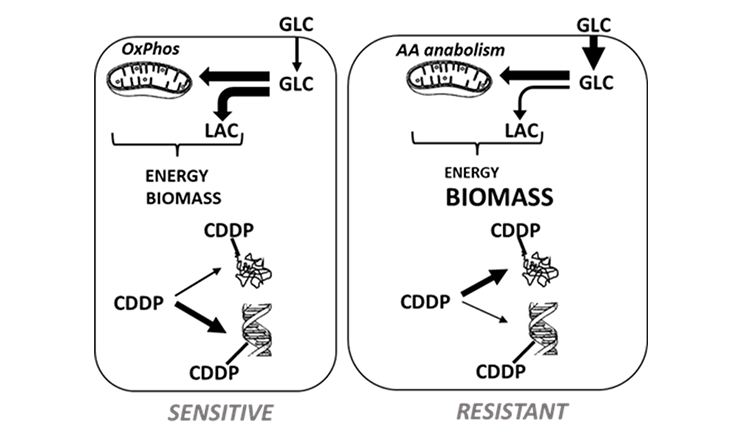 Content
Abnormal metabolism was described as a hallmark of cancer over a half century ago. Over the last decade, in collaboration with our colleagues at the University of Texas MD Anderson Cancer Center, we have shown that differential energetic and REDOX regenerative pathways accompany the development of head and neck cancer and contribute to conventional chemotherapy and radiation resistance as well as suppressed antitumor immunity. Active research efforts are focused on identification of novel metabolic vulnerabilities which are targetable in head and neck cancers through a combination of basic science and translational approaches, coupled with clinical trial development and implementation.
Recent Publications: 
Ahmed KM, Veeramachaneni R, Deng D, Putluri N, Putluri V, Cardenas MF, Wheeler DA, Decker WK, Frederick AI, Kazi S, Sikora AG, Sandulache VC, Frederick MJ. Glutathione peroxidase 2 is a metabolic driver of the tumor immune microenvironment and immune checkpoint inhibitor response. J Immunother Cancer. 2022 Aug;10(8):e004752.
Veeramachaneni R, Yu W, Newton JM, Kemnade JO, Skinner HD, Sikora AG, Sandulache VC. Metformin generates profound alterations in systemic and tumor immunity with associated antitumor effects. J Immunother Cancer. 2021 Jul;9(7):e002773.
Chen Y, Maniakas A, Tan L, Cui M, Le X, Niedzielski JS, Michel KA, Harlan CJ, Lu W, Henderson YC, Mohamed ASR, Lorenzi PL, Putluri N, Bankson JA, Sandulache VC, Lai SY. Development of a rational strategy for integration of lactate dehydrogenase A suppression into therapeutic algorithms for head and neck cancer. Br J Cancer. 2021 May;124(10):1670-1679. 
Yu W, Chen Y, Putluri N, Coarfa C, Robertson MJ, Putluri V, Stossi F, Dubrulle J, Mancini MA, Pang JC, Nguyen T, Baluya D, Myers JN, Lai SY, Sandulache VC. Acquisition of Cisplatin Resistance Shifts Head and Neck Squamous Cell Carcinoma Metabolism toward Neutralization of Oxidative Stress. Cancers (Basel). 2020 Jun 24;12(6):1670. 
Frederick M, Skinner HD, Kazi SA, Sikora AG, Sandulache VC. High expression of oxidative phosphorylation genes predicts improved survival in squamous cell carcinomas of the head and neck and lung. Sci Rep. 2020 Apr 14;10(1):6380.