Master
Media Component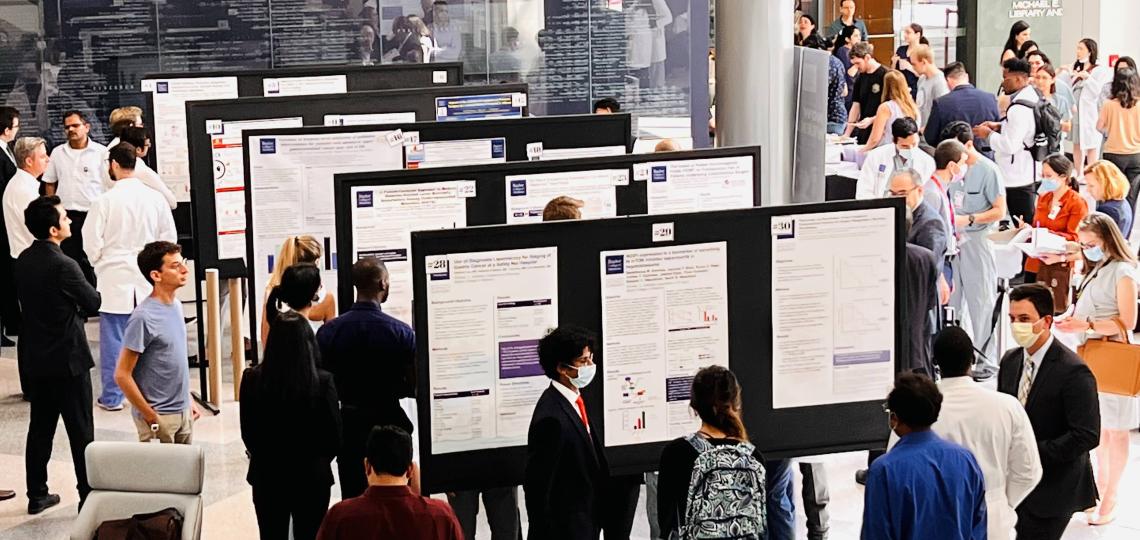 Content
250 guests were on hand for the 10th Annual Michael E. DeBakey Department of Surgery Research Symposium held, May 31 to June 1, 2022. Special guest, Dr. Omaida Velazquez presented the keynote address, ""The Surgeon Scientist: Is Extinction Inevitable?"
The focus of the department's research program is to conduct important research in surgical disease that will improve treatment and quality of life for affected patients and to train future leaders in academic surgery.
This year's symposium underscored both aspects of this mission by highlighting the exciting research activities of our residents, fellows, staff, and students. Our trainees and staff presented work that spans our divisions and affiliated hospitals. Their accomplishments also reflect the outstanding mentorship provided by our faculty members. 
Content
Best Clinical Research Presentation by a Resident or Fellow
"Surgical Resection for Pediatric Synovial Sarcoma: What Margin is Adequate?"
Dr. Andy Espinoza
Mentor: Dr. Sanjeev Vasudevan
Best Basic Science Presentation by a Resident or Fellow
"Role of RIPK3-Mediated Smooth Muscle Cell Death in Sporadic Aortic Aneurysm and Dissection Development"
Dr. Kimberly Rebello
Mentors: Drs. Scott LeMaire and Ying Shen 
Best Quick Shot Presentation by a Resident or Fellow
"Single-Cell Transcriptome Analysis Reveals Differential Profiles of Vascular Smooth Muscle Cells in Human Acute Ascending Aortic Dissection and Ascending Aortic Aneurysm"
Dr. Yanming Li
Mentors: Drs. Ying Shen and Scott LeMaire 
Best Quick Shot Presentation by a Student
"Outcomes and Readmissions After Mitral Valve Replacement in Patients with Atrial Fibrillation and Pulmonary Hypertension"
John Treffalls
Mentor: Dr. Subhasis Chatterjee
Best Quick Shot Presentation by a Member of the Clinical, Research, or Education Staff
"A Prospective, Multi-Center, Randomized, Double-Arm Trial to Determine the Impact of the SELENE System on Positive Margin Rates in Breast Conservation Surgery"
Huma Javaid
Mentor: Dr. Alastair Thompson
Best Poster Presentation by a Resident or Fellow
"Hospital Variation in Resident Operative Autonomy"
Dr. Jorge Portuondo
Mentor: Dr. Nader Massarweh
Best Poster Presentation by a Student
"NQO1 Expression is a Biomarker of Sensitivity to mTOR Inhibitor Sapanisertib in Hepatoblastoma"
Saiabhiroop Govindu
Mentor: Dr. Sarah Woodfield
Best Poster Presentation by a Member of the Clinical, Research, or Education Staff
"Effects of Intradialytic Plantar Electrical Nerve Stimulation on Gait Performance in Individuals with Diabetes and End-Stage Renal Disease – Initial Results"
Naima Rodriguez
Mentor: Dr. Bijan Najafi