Master
Content
The Cardiovascular Research Institute Center has six major research focus areas. See the focus themed areas listed below along with the associated Baylor College of Medicine faculty.
CVRI Shared Resources Lab
Heading
Mouse anesthesia and surgery stations
Media Component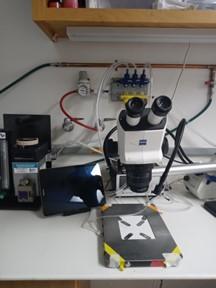 Content
In room 521C, three fully equipped mouse anesthesia and surgery stations are equipped with endotracheal intubation kits (Kent Scientific), isoflurane anesthesia systems, rodent ventilator (Kent Scientific), dissecting microscope (Nikon), and rodent surgical monitor systems (Indus Instruments), consisting of a heated surgical platform, rectal temperature probe with feedback system, and touchscreen display unit for vital signs (Samsung Galaxy pads).
Media Component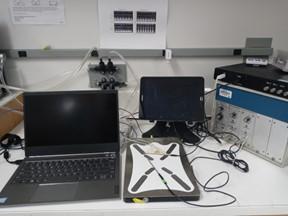 Content
A high-frequency pulsed Doppler flow velocity system (DFVS; Indus Instruments, Webster, TX) is a real-time pulsed Doppler measurement device with integrated data analysis software designed specifically for measuring cardiovascular function in small animals. The system consists of three components: Pulsed Doppler Transceiver (PDT: 10 & 20 MHz switchable dual channel system), Doppler Signal Digitizer (DSD), and Doppler Workstation (DW).
Heading
Working heart system
Media Component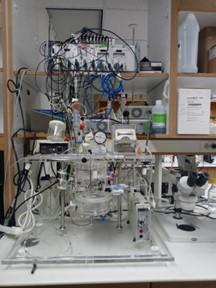 Content
In room 521C, a perfusion system for isolated rodent hearts (hamsters, rats, or guinea pigs) can be used to study working hearts. The IH-SR 844 system (Harvard Apparatus) is equipped to measure mechanical cardiac parameters, bioelectric parameters, and metabolites.  It is capable of operating as working heart and Langendorff modes with constant pressure and flow. The system is able to measure left ventricular pressure (balloon method), atrial flow rate, ECG, electrical stimulation, and epicardial monophasic action potential (using a MAP tip electrode). 
Media Component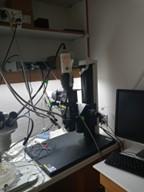 Content
For ex vivo heart studies, the lab (room 521C) has an optical mapping system from SciMedia consisting of a MiCAM Ultima ultra high-speed imaging system, CMOS camera, THT splitter for dual mapping acquisition, and a LEX2-G and LEX3-B LED light system. It is coupled with a Langendorff perfusion system to perfuse and sustain hearts ex vivo with a drug port for accessible administration of dyes and chemicals.  Depending on the fluorescent probe, the system can monitor the heart's electrical activity (Di-4-ANEPPS/RH237), intracellular calcium (Rhod-2), or sarcoplasmic calcium (Fluo5, MagFluo4). The camera is controlled using BrainVision (BVAna) software, data are processed using Matlab Rhythm, and ECG tracings are recorded using Powerlab 26T.
Heading
Leica ASP300S tissue processor
Media Component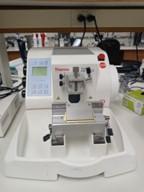 Content
Located in 509E, the Leica ASP300S Tissue Processor is used for research histopathology and capable of processing up to 300 cassettes at one time. This upright style machine has programmable protocol capabilities to process tissues with controlled tissue infiltration by modifying the pressure levels. It processes cassettes through xylene, alcohol, and then paraffin by an optical level sensor, a reagent management system, and an external drain and remote fill. 
Heading
Histology Microscope
Media Component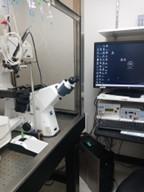 Content
Located in room 521C, the Zeiss Axioscope A1 can be used with reflected and transmitted light techniques such as Brightfield, darkfield, polarization, DIC, circular DIC, fluorescence, and phase contrast. With the Axio Scope A1 microscope the illumination source and reflector turret are easily changed for the methods of imaging mentioned above. Five series of objectives are available: A-Plan, N-Achroplan, EC Plan-neofluar, Plan-apochromat, and fluar. This scope has a six-position filter wheel with integrated shutters which can be used in conjunction with a separate filter slide.
Heading
Cardiac cell isolation
Media Component
Content
There are two cell isolation systems (Radnoti) with a water bath for temperature control that are used in isolating cardiac cells from rodent hearts (room 518C and 521C). The Langendorff isolated heart perfusion systems are located next to Leica L2 bright field microscopes for dissecting tissue prior to isolations.
Heading
Confocal microscope and patch-clamp
Media Component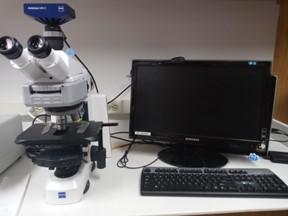 Content
The CVRI lab (room 520C) has a Zeiss LSM880 confocal microscope equipped with a patch clamp setup, temperature-controlled perfusion (TC344B, Warner Instruments), and field stimulator (Myopacer, IonOptix).  Microscope is equipped with Zen Black (for confocal microscopy) and Zen Blue (for wide field microscopy) software packages. The patch clamp equipment includes an Axopatch 200B amplifier with PClamp 10 software (Axon Instruments). The lab has image analysis software with signal detection algorithms and computer codes to detect and analyze the fluorescence signals reporting the intracellular Ca2+ activity at high spatial and temporal resolution.
Content
Located in 521C, this microtome is designed to cut thin slices of tissue samples, typically ranging from 1 to 60 microns in thickness, with high precision and consistency. The instrument works by using a motorized cutting blade to slice the tissue sample, which is mounted on a movable specimen holder that can be adjusted for precise positioning. This model also has a cascading water feature used to help extend the paraffin ribbon into the attached water bath bowl.
Freezer (-80C)
Located in room 522C, two -80C vertical ultra-low freezers efficiently store samples by using HC refrigerants and protects them within a structure using steel walls and a composite VIP and polyurethane insulation. Multiple, polyurethane foam insulated interior doors allow easy access with minimal temperature loss to racks set on the stainless-steel shelves inside. Running parameters are clearly displayed on the front electronic control panel at all times and can be downloaded via the USB port for long term datalogging. These samples are used to store human tissue samples; limited space is available upon request.
Other relevant resources
Baylor College of Medicine operates over 27 Advanced Technology Core Laboratories. Several of these cores are particularly useful for the generation of models of cardiovascular disease or phenotyping thereof.
Email cvri@bcm.edu for more information or to schedule use of shared resources.