Master
Heading
Proteomic determinants of response to checkpoint blockade in malignant pleural mesothelioma
Media Component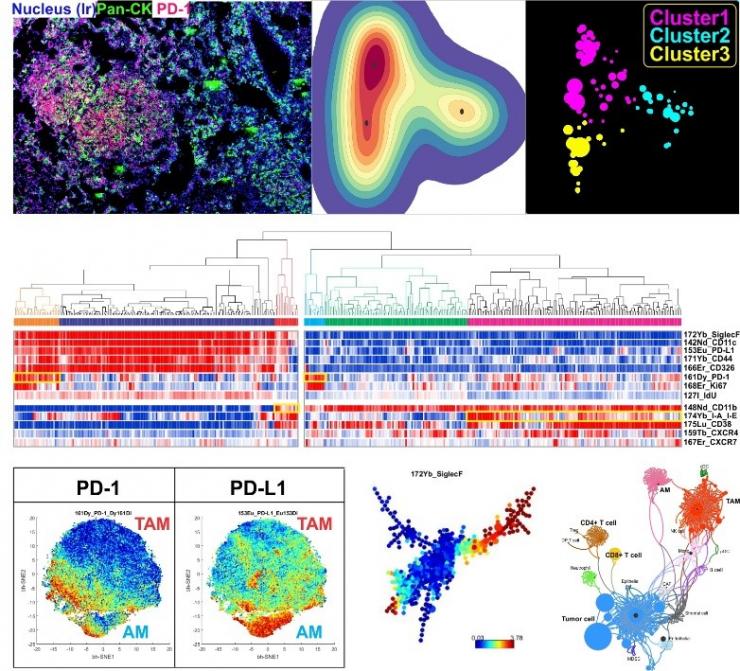 Content
Malignant pleural mesothelioma (MPM) is a fatal cancer of the lining of the lungs that has defeated standard therapies for decades. Immune checkpoint inhibitors (ICIs) are revolutionizing cancer treatment, and tumor- specific neoantigens are critical components of the vigorous anti-tumor T cell responses possible from these agents. Emerging clinical data show that ICIs result in meaningful extension of life in half of patients with MPM but are associated with immune-related side effects. There is no reliable biomarker for identifying MPM patients who will respond to ICIs. Such a test would avoid unnecessary toxicity, triage non-responders to potentially more effective treatment, and could even extend long-term survival. Our central hypothesis is that response to PD-1 blockade in MPM can be predicted by a clinically-applicable biomarker of its immunologic organization and requires neoantigen:MHC concordance.
In Aim 1, we will apply the high dimensional platforms of time-of-flight mass cytometry (CyTOF) and imaging mass cytometry (IMC) to dissect the cellular networks and immuno-architectural features of MPM that govern response to nivolumab. In Aim 2, we will perform mass spectrometry (MS) on HLA-typed tumors to investigate neoantigen biology and challenge the prevailing biomarker of neoantigen burden. Our results will define core elements of the immunoproteomic structure of MPM and result in the clinical translation of innovative biomarkers expected to directly improve the care of MPM patients. More broadly, completion of this project will advance our understanding of neoantigen biology and of mechanisms of response and resistance to ICIs in human cancer.
This project is currently supported by NIH NCI R37CA248478.
Heading
Spatial Profiling of Tumor-Immune Microenvironment by Multiplexed Single-Cell Imaging Mass Cytometry
Content

The objectives of this project are to create spatial biomarkers that determine which tumors can be effectively treated with immune checkpoint inhibitors and to identify novel therapeutic approach to overcome resistance to checkpoint immunotherapy.
This project is currently supported by the CPRIT RP200443.
Heading
Therapeutic targeting of MIC-NKG2D signal to overcome resistance to checkpoint immunotherapy
Content
The goal is to investigate and study the role of anti-MIC (MHC Class I Chain-Related Protein) antibody in overcoming resistance to checkpoint immunotherapy by targeting MIC-NKG2D (a receptor on natural killer cells and cytotoxic T cells) through systems onco-immunology approach. This investigation will lay a solid foundation for future clinical trials.
This project is currently supported by Samyang Biopharm USA.