Master
Media Component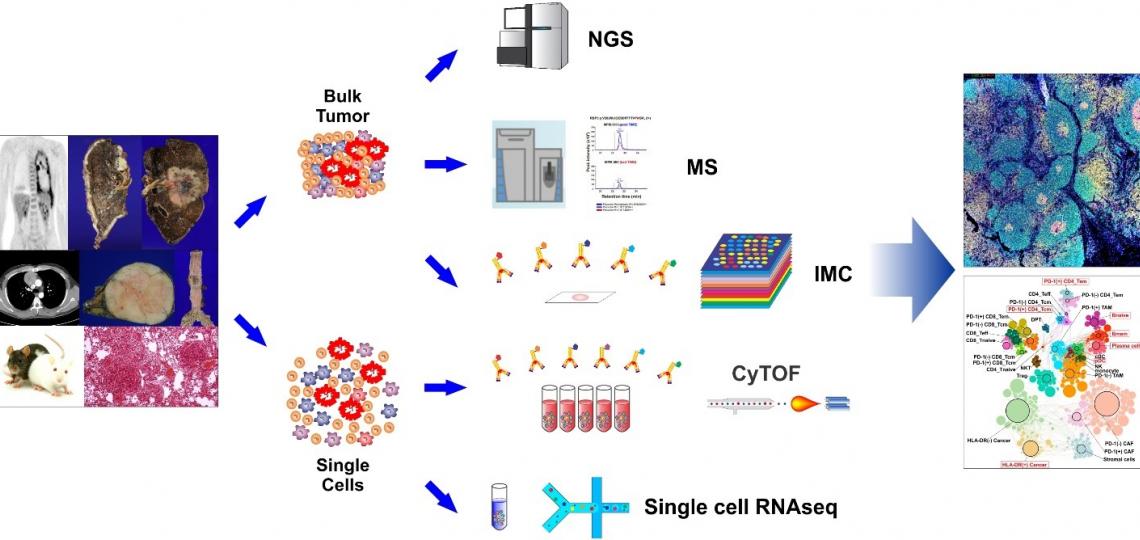 Content
Under the direction of Hyun-Sung Lee, M.D., Ph.D., the Systems Onco-Immunology Laboratory (SOIL) uses and develops innovative methods within the context of multi-omics technologies to investigate cancer-immune system networks and inform the design of novel approaches to immunotherapy.
The lab was founded in 2015 by a visionary in thoracic surgery and thoracic oncology, Dr. David J. Sugarbaker and the name "SOIL" is also a tribute to the  "Seed and Soil theory of metastasis" that was the basis for our early collaborative work with Dr. Sugarbaker.
Our lab is a hub for translational oncology research projects in thoracic oncology and unites an interdisciplinary team of surgeons, medical oncologists, immunologists, and bioinformaticians who are conducting research in the field of onco-immunology. Our work extends to encompass a broader interaction with the scientific community and educational opportunities in systems onco-immunology.
Heading
Systems Onco-Immunology Approaches
Content
Many systems approaches have been applied to analyzing the local and systemic immunity to reveal the intricate cellular networks at the single-cell level. Technologies used in systems immunology operate either on bulk tissue samples or single-cell suspensions. Next-generation sequencing (NGS), mass spectrometry (MS) and multiplexed imaging mass cytometry platforms do not require tissue dissociation (although histology provides single-cell resolution). Droplet-based microfluidics and time-of flight mass cytometry (CyTOF), in contrast, require cell suspensions, but generate high-dimensional data for individual cells. Results from these analyses have been used to monitor responses to checkpoint immunotherapy, mapping changes in the immune system across an organism, and for the design of personalized precision immunotherapy.
Heading
Areas of Research
Content
To date, preclinical and clinical studies exploiting systems approaches have generated profound amounts of data enabling characterization of immune responses and the generation of data rich atlases and accompanying tools for analysis. These important advances have laid the groundwork for discovery in the field of tumor immunology. Systems immunology in the field of immuno-oncology is comprehensively integrating high dimensional single cell time-of-flight mass cytometry (CyTOF), imaging mass cytometry (IMC), mass spectrometry, and next generation sequencing data. Our overarching goals are to identify potential therapeutic targets and to develop strong prognostic or predictive determinants for the management of solid tumors by applying "comprehensive and integrated systems immunology" approach.