Master
Media Component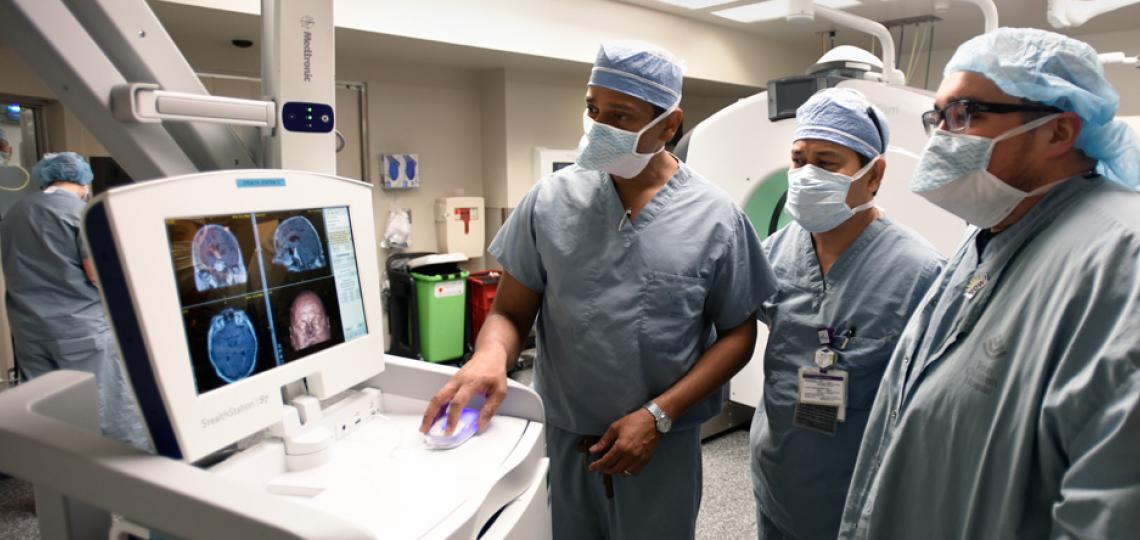 Heading
About Functional Neurosurgery
Content
The neurosurgery team at Baylor Medicine has long been a pioneer in functional neurosurgery, using targeted therapies to improve quality of life. Baylor is a national leader in deep brain stimulation (DBS), a surgical procedure used to treat a variety of movement disorders. Dr. Viswanathan was the first surgeon in Texas to perform image-guided DBS, and "asleep" DBS. In addition to DBS, our neurosurgeons are experts in utilizing advanced state-of-the-art neurosurgical treatment for patients with disabling neurological movement disorders, neuropsychiatric disorders and pain conditions.
Heading
Treatment Options
Content
Deep brain stimulation
Stereotactic radiosurgery
Microvascular decompression
Outpatient trigeminal neuralgia (facial pain) treatment
Spinal cord stimulation
Neurostimulators
Intrathecal drug delivery
Heading
Conditions Treated
Content
Parkinson's Disease
Essential Tremor
Epilepsy
Dystonia
Hemifacial Spasm
Spasticity 
Psychiatric Conditions: Obsessive Compulsive Disorder and Depression
Tourette Syndrome
Pain including Trigeminal Neuralgia
Heading
Programs and Services
Content
Our approach to pain management focuses on providing the least-invasive treatment to improve quality of life.
Content
For patients with epilepsy who cannot attain good seizure control with medications, epilepsy surgery is an important option.
Heading
Deep Brain Stimulation
Content
Baylor Medicine our neurosurgeons have been offering and managing DBS therapy for patients with a variety of movement disorders since the 1990s. Additionally, our team is one of the few in the country with extensive experience in treating patients with severe psychiatric disorders. 
Terms

Sameer Sheth, M.D., Ph.D.
Item Definition
Dr. Sheth specializes in the treatment of patients with movement disorders, epilepsy, brain tumors, tremor and psychiatric disorders such as obsessive-compulsive disorder and depression. He has extensive experience in neurosurgical procedures such as deep brain stimulation (DBS), epilepsy surgery, and brain tumor resection.

Ashwin Viswanathan, M.D.
Item Definition
Dr. Viswanathan is one of the few neurosurgeons in the nation with special expertise to treat cancer pain and also specializes in deep brain stimulation. He has a vast experience with complex surgeries for uncontrollable pain, including minimally invasive cordotomy surgery.
Heading
Ashwin Viswanathan, M.D.
Content
Dr. Viswanathan, neurosurgeon, specializes in deep brain stimulation, trigeminal neuralgia, cancer pain, and chronic pain.