Master
Media Component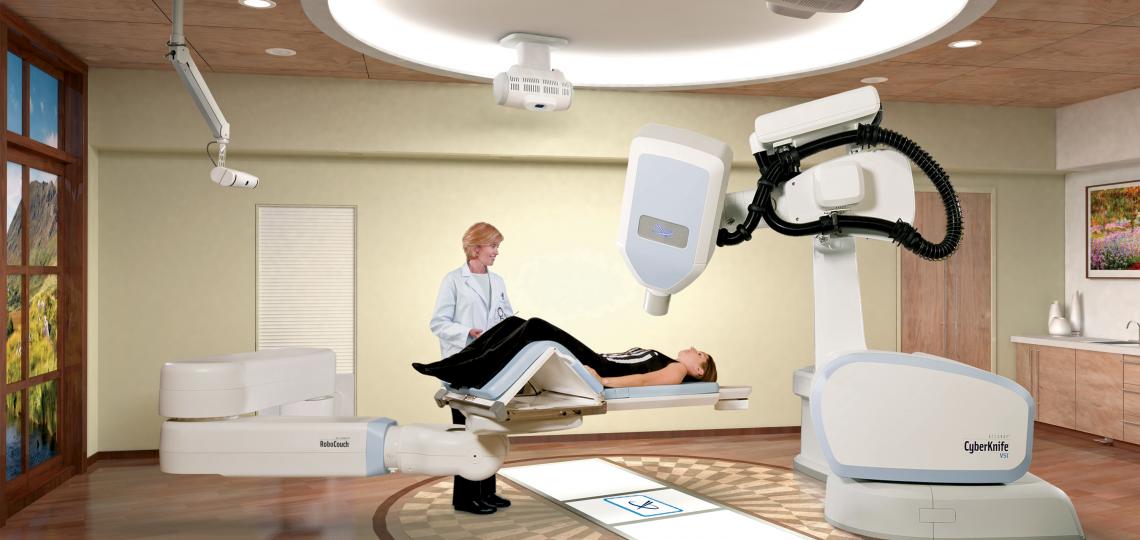 Content
Our Department of Neurosurgery doctors use the radiosurgery system, the CyberKnife©.
Heading
About Stereotactic Radiosurgery
Content
Stereotactic radiosurgery is a technique that uses very focused and precisely aimed beams of radiation to treat targets in the brain or spine. This technique is precise and non-invasive and often allows effective treatment of complex problems including brain tumors without an incision, hospital stay, or anesthesia. This technique is used for brain and spine tumors, vascular malformations (AVMs), and facial pain (trigeminal neuralgia).
Stereotactic radiosurgery was invented by famed Swedish neurosurgeon Lars Leksell in the 1950s and has since been dramatically enhanced with modern engineering and technology. Our doctors use one of the best and most advanced radiosurgery systems available, the CyberKnife©. The CyberKnife© at Baylor St. Luke's Medical Center is one of only two such systems in South Texas. Unlike other older radiosurgery systems such as the Gamma Knife which require holding the head still with a skull clamp, the CyberKnife© does not require invasive head or body frames to stabilize patient movement. This makes the CyberKnife© System both painless and more versatile in comparison to most other stereotactic radiosurgery systems and offers meaningful advantages to our patients.
Terms

Akash J. Patel, M.D.
Item Definition
Dr. Akash Patel specializes in treatment of brain and skull-base tumors, including, brain metastases (tumors that spread from another location to the brain), meningiomas and acoustic neuromas, both with microsurgery and with stereotactic radiosurgery.

Ashwin Viswanathan, M.D.
Item Definition
Dr. Ashwin Viswanathan is a fellowship-trained expert in the neurosurgical treatment of pain. He is experienced with multiple techniques including stereotactic radiosurgery for treating trigeminal neuralgia (a disorder that results in intolerable pain on one side of the face).