Master
Media Component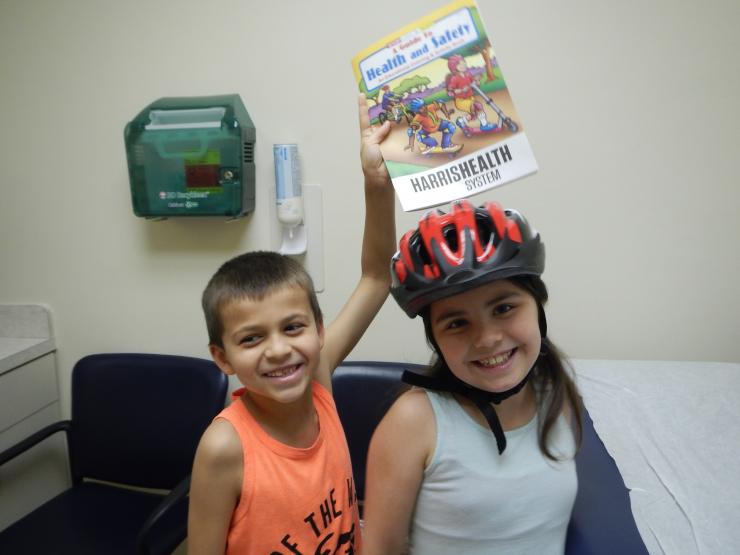 Content
Baylor College of Medicine physicians and residents at the Pediatric and Adolescent Health Center in Pasadena helped ensure that local kids have a fun, healthy and safe summer by giving away bicycle helmets and discussing summer safety June 20 – 23, 2016 during clinic hours.
The Pediatric and Adolescent Health Center bicycle helmet giveaway was part of a statewide effort called Hard Hats for Little Heads launched by the Texas Medical Association in 1994. The program promotes fun exercise and teaches parents and children about the importance of wearing a helmet.
"Safe exercise is a great way to prevent obesity in children and adolescents, especially given that one in three Texas teens is overweight or obese," said Dr. Lauren Krenek, a pediatric resident. "Research shows students who are physically fit do in better in school, with higher test scores, good attendance and fewer disciplinary referrals. Additionally, being overweight or obese increases the risk for serious diseases, including type 2 diabetes, heart disease, stroke and some forms of cancer."
Physicians encourage wearing a helmet for all sports on wheels, including bicycling, in-line skating, skateboarding and when riding scooters, but doctors want to make sure those helmets fit properly.
Baylor physicians were available during the safety fair to help properly fit the helmets.
Since TMA's Hard Hats for Little Heads program began, physicians have given away more than 235,000 free helmets to Texas children. Hard Hats for Little Heads is supported through a TMA Foundation grant thanks to donors including Blue Cross and Blue Shield of Texas, an anonymous physician and spouse, TMAF Make-A-Difference donors and the Baptist Health Foundation of San Antonio as well as generous gifts from TMA and TMA Alliance members and others.
The local event was sponsored by the Pediatric and Adolescent Health Center, in conjunction with the Texas Medical Association. The Texas Pediatric Society, the Texas Chapter of the American Academy of Pediatrics, provided funding for this giveaway, which is sponsored by a TPS member.