Master
Heading
Clinical Base Year
Content
Twelve months of non-anesthesia training are required for entry into the ABA examination system. Anesthesia residents entering at the PGY-1 level via the NRMP receive clinical base year training at affiliated hospitals of Baylor College of Medicine. The clinical base year is designed to expose residents to a variety of inpatient and outpatient clinical settings which provides a foundation upon which anesthesiology training can be built.
Residents rotate through the Department of Medicine (general, ICU, cardiology, pulmonary, gastroenterology, hematology, nephrology, and infectious disease), Emergency Medicine, Pediatrics, Pathology (transfusion medicine), and Otorhinolaryngology.
Heading
Clinical Anesthesiology Years
Media Component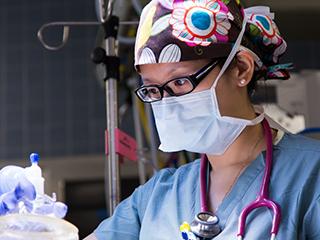 Content
Residents rotate through all of the participating hospital services during the clinical anesthesia training period. During the first 12 months of clinical anesthesia training (CA-1), residents focus on learning the fundamentals of anesthetic management of patients undergoing elective and emergent general, ophthalmologic, plastic, ENT, oral, orthopedic, gynecologic, and urologic surgery – including the preoperative assessment of these patients and managing them in the post anesthesia care unit. Residents also get early exposure to the sub-specialties by completing a 2 month obstetric anesthesia block as well as an introduction to cardiac anesthesiology in a 2 week block.
During the next 12 months of training (CA-2), residents learn to manage increasingly complex patients undergoing pediatric, cardiothoracic, and neurosurgical procedures, and obtain extensive experience in pain management, and critical care.
During the final 12 months of anesthesia training (CA-3), residents are able to tailor their clinical experience to meet individual interests.