Master
Heading
In Memory of David K. H. Chen, MD - 1975-2020
Media Component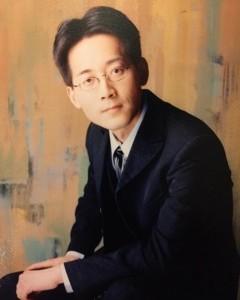 Content
Dr. David Chen was a dedicated neurologist with a focus on the care of those with epilepsy and a talented medical educator and a leader. He was a kind, gentle and generous friend and colleague and a devoted husband to Grace and father to twin daughters, Allison and Alyssa. He served as associate professor, Department of Neurology, Baylor College of Medicine and staff neurologist and director, Houston Epilepsy Center of Excellence, Michael E. DeBakey VA Medical Center. He was a nationally recognized expert and thought-leader in neuropsychiatric aspects of epilepsy and non-epileptic seizures, and introduced novel therapies to patients at the VA in Houston with this disorder.
Dr. Chen received his undergraduate degree from University of California at Berkley (BA, summa cum laude) in Molecular and Cell Biology in 1997 and his medical degree from Medical College of Virginia Commonwealth University in 2001. He completed an internship in internal medicine at Santa Clara Valley Medical Center, San Jose, CA. At Stanford University Medical Center, Palo Alto, CA he completed a residency in neurology (2005) and fellowship in clinical neurophysiology and epilepsy (2007). He joined the Baylor College of Medicine faculty in 2007 as member of the Peter Kellaway Section of Neurophysiology and the Baylor Comprehensive Epilepsy Center, Department of Neurology and as Director, Neurophysiology Laboratory, MEDVAMC.
Dr. Chen was one of the few epileptologists certified as a provider of Cognitive Behavioral Therapy to care for those with psychogenic nonepileptic seizures. Throughout his career, in addition to providing care for veterans at MEDVAMC, David cared for those with epilepsy in the Baylor Medicine practice, and as an attending epileptologist and clinical neurophysiologist at Baylor St. Luke's Medical Center. He was a diplomate of the American Board of Psychiatry and Neurology, in Neurology and in the subspecialties of Clinical Neurophysiology and of Epilepsy.
He was a dedicated and skilled medical educator, involved in teaching medical students, neurology residents, and epilepsy and clinical neurophysiology fellows within the Baylor programs. He received the Department of Neurology, BCM Faculty Teaching Award several times and was given a BCM Fulbright & Jaworski LLP Faculty Excellence Award in Teaching and Evaluation. David was also an academic scholar with several peer-reviewed publications, book chapters, presentations at national professional meetings, principal investigator of clinical trials, and active participant in journal and grant review panels.
Dr. Chen's contributions to Baylor College of Medicine and to the Michael E. DeBakey VA Medical Center have been significant to the institutions he served and personally to those of us who knew him.
The Department of Neurology has established the David K.H. Chen, MD, Teaching Award to be given annually to a fellow in epilepsy or clinical neurophysiology for outstanding contributions in medical education.
David K.H. Chen, MD Teaching Award Winners
2020
Steven Fussner, M.D.
Danielle Schwartzenburg Takacs, M.D.