Master
Media Component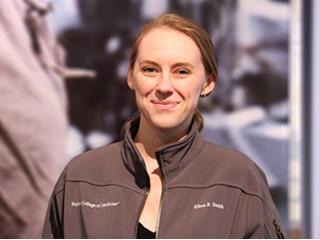 Content
Baylor Medical Student Eileen Smith discusses her experience in the Michael E. DeBakey Summer Surgery Program.
Q: What were your expectations coming into the DeBakey Program?

When I applied, I was interested in medicine (I loved science and community service); but to be honest, I was afraid I was a bit too squeamish for most of it. I wanted to get to chance to get in the OR, see how I liked it, and figure out if medical school would be a good fit.
Q: What kind of experiences did you gain from this program?

I shadowed two different surgeons while a DeBakey student, Dr. William Fisher, a general surgeon at Baylor St. Luke's Medical Center and Dr. Panagiotis Kougias, a vascular surgeon at the Michael E. DeBakey VA Medical Center. At Baylor St. Luke's, I shadowed Dr. Fisher during surgeries and helped out in clinic. At the VA, I spent most of my time in the OR observing and scrubbing in on a huge variety of vascular surgeries.
What was the most meaningful moment during your time in the program?
Getting to be first-assist with the vascular surgery fellow, every Thursday, when the rest of the team had to be in clinic.
How is this program different from other shadowing programs?
At least when I participated, most students got the opportunity to scrub in. I think this is really what sets this program apart. Students get a chance to get into the OR, participate, and see surgical care first hand. Most people aren't able to get this kind of access to the OR until they are halfway through medical school.
Did this experience change your view of surgery as a specialty?
This summer not only made me want to be physician, it made me want to be a surgeon. The surgeons I met were an amazing group of people, who loved what they did and took amazing care of their patients.
How did the experience that you acquired during your time in this program translate to you being a medical student?
I think generally I am comfortable in an OR, whereas students who have never spent any time there can have a pretty steep learning curve getting used to scrubbing in, where to stand, and who does what.