Master
Heading
Sclerotherapy for varicose veins
Media Component

Credit
© 2016-2019 Healthwise, Incorporated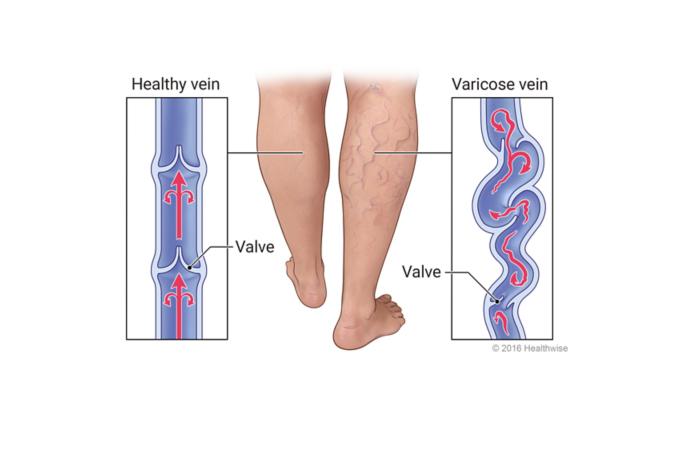 Content
Varicose veins are twisted, enlarged veins near the surface of the skin. They're most common in the legs and ankles. They usually aren't serious.
Sclerotherapy uses an injection of a special chemical (sclerosant) into a varicose vein to damage and scar the inside lining of the vein. This causes the vein to close.
During this procedure, the affected leg is elevated to drain blood, and the sclerosant is injected into the varicose vein. The procedure is done in a doctor's office or clinic and takes 5 to 30 minutes, depending on how many varicose veins are treated and how big they are.
After the injection of sclerosant is given, pressure is applied over the veins to prevent blood return when you stand up. You may need to wear compression stockings for several days or weeks to maintain the pressure.
The sclerotherapy injection may be painful, and the chemical (sclerosant) that is injected can cause a feeling of burning or cramping for a few minutes in the area where the shot was given. You may need repeated sessions and many injections each session, depending on the extent of the varicose veins and type of sclerosant used.
A newer, minimally invasive technique allows your doctor to inject sclerosant with a catheter. The catheter and sclerosant are guided to the affected vein with the help of duplex ultrasound. This process allows sclerotherapy treatment to be used on larger varicose veins that previously could only be treated surgically with ligation and stripping, in which larger varicose veins are tied off and removed.
Heading
Laser treatment for varicose veins
Content
A laser is a highly focused beam of light. A doctor can use a laser to treat varicose veins. Laser heat damages a vein, which makes scar tissue form. This scar tissue closes the vein. A closed vein loses its source of blood and dies. After a year or two, the vein is likely to disappear.
Simple laser treatment
Simple laser vein treatment is done on the outside of your skin. It can treat spider veins and tiny varicose veins just under the skin's surface. Usually, more than one laser session is needed. They are scheduled every 6 to 12 weeks, as prescribed by your doctor. (If you have poor blood circulation feeding these tiny veins, the larger "feeder" vein must first be treated with surgery, endovenous laser or radiofrequency treatment, or sclerotherapy.)
Endovenous laser treatment
Endovenous laser treatment can treat larger varicose veins in the legs. A laser fiber is passed through a thin tube (catheter) into the vein. While doing this, the doctor watches the vein on a duplex ultrasound screen. Laser is less painful than vein ligation and stripping, and it has a shorter recovery time. Only local anesthesia or a light sedative is needed for laser treatment. (For ligation and stripping, general anesthesia is used to put you to sleep.)
© 2016-2019 Healthwise, Incorporated.