Master
Content
Student opportunities for career advising occur within the schools and academic programs. Career advising helps identify students' goals and equip students with the tools and knowledge to help them discover the most appropriate career trajectory. Similar to academic advising, career advising is tailored to students' educational programs, and can be dual-faceted to include: educational/academic planning, and career/life planning.
Heading
Career Planning Milestones
Media Component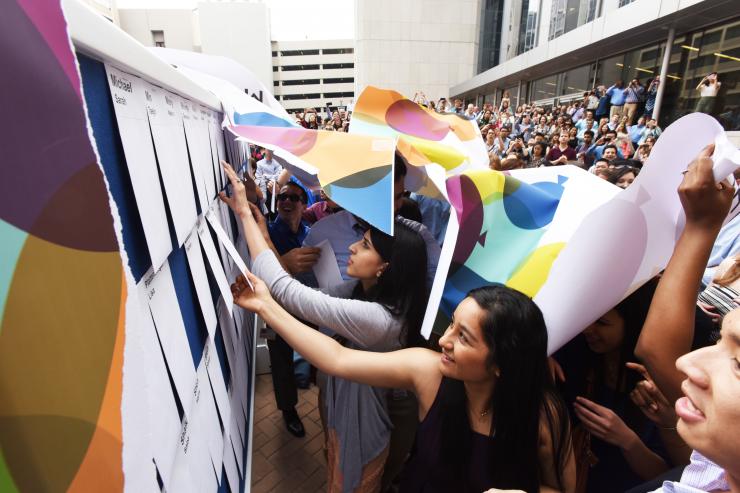 Content
The deans in Student Affairs work in collaboration the School of Medicine Learning Community senior advisors and with the School of Medicine Faculty Mentor Program in order to provide extensive career and personal counseling. Throughout their medical school education, each student meets with their faculty mentor and deans in Student Affairs to discuss career planning.
In 2013, the Career Planning Milestones program was developed by a dean in the Office of Student Affairs. This program includes information from the AAMC's Career in Medicine program as well as milestones for each student based upon their level of training.
Heading
AAMC'S Careers in Medicine
Content
This is a four-phase program that begins the first year of medical school and continues through the fourth year with the Residency Planning. It is designed to empower students to make informed decisions about their lives and careers.
Heading
Peer Resource Network (PRN)
Content
Peer advising groups for first year students. Each group of 10 to 12 students is joined by students from the second, third and fourth year classes. Educational support and social activities are also conducted by each group.
Heading
National Residency Matching Program
Content
The associate dean explains how "the Match" works, and how to maximize one's chances of getting the best residency position. Graduate Training Programs (Residencies) – The Office of Student Affairs provides services to help students seek positions in graduate training programs.
In the spring of each year, a residency planning workshop is conducted for the third-year class. Topics covered include interview timelines, specialty information, electives away, the Electronic Residency Application Service and National Residency Matching Program. A dean in the Office of Student Affairs will meet with each student and offer advice concerning residencies. A dean's letter of evaluation and a transcript will be sent to the director of each program to which the student applies.
Students should plan on residency program interview trips in the fall and winter of their fourth year. Students need to plan their schedules such that interviews do not interfere with their clinical and educational responsibilities. For details please refer to the policy on student absenteeism during core rotations.
All students must secure their first-year graduate (PGY 1) training position through the NRMP. To do so, the student must sign an agreement with the NRMP in the summer preceding graduation and abide by the rules of the NRMP. Subsequent withdrawal of the student from the NRMP requires a Student Withdrawal Form and approval of a dean in the Office of Student Affairs.
Students list their rank order of choices for positions by mid-February and learn of the results of the matching program in mid-March. Any student who does not adhere to the NRMP deadlines is excluded from the Match. Students who find hospitals which violate the rules of the NRMP should report such violations to a Dean in the Office of Student Affairs.
A listing of all approved residencies and a description of all requirements of specialty boards are provided annually to the Office of Student Affairs. This program includes demographic information on all programs that participate in the NRMP.
Content
The deans in Student Affairs and members of the Texas State Board of Medical Examiners go over licensure considerations, and explain how to become licensed and to get reciprocity.
Heading
Career Development Center
Content
The Career Development Center complements Baylor College of Medicine's academic mission by providing the necessary training, resources and connections for students and trainees to achieve their professional goals and develop meaningful careers.
We utilize a holistic approach to career decision-making and strive to work with students and trainees from their initial entry into Baylor College of Medicine through graduation or the completion of a fellowship.
We provide individualized career coaching and work in collaborative partnership with school and program leadership, academic departments, alumni and employers to deliver inclusive programming.
Learn about all the services provided by the Career Development Center.