Master
Content
Students who are committed to developing careers in surgical research are encouraged to apply for our formal General Surgery Residency Program - Research Track. Through the match, we accept four residents into the Research Track every year. During their first two years of clinical training, Research Track residents identify potential mentors and work with them to develop formal research proposals. After completion of their second year, these residents begin their two-year research training program under the direct supervision of their mentor.
Residents in the General Surgery Residency Research Track program can focus on traditional basic or applied science laboratory research, clinical research, or health services and outcomes research. These opportunities are available across all the surgical disciplines within our department, including cardiothoracic surgery, critical care, gastrointestinal surgery, pediatric surgery, plastic surgery, surgical oncology, transplantation, trauma, and vascular surgery. Residents interested in conducting research in cardiac surgery or vascular surgery are encouraged to consider participating in our NIH-funded T32 Research Training Program in Cardiovascular Surgery.
During the research training years, residents work on multiple scientific projects while participating in an advanced research curriculum, through which they receive intensive instruction on how to present and publish their work.
To supplement this curriculum, all Research Track residents receive support to attend the Association for Academic Surgery Fundamentals of Surgical Research Course and Career Development Course, both of which are held immediately prior to the annual Clinical Congress of the American College of Surgeons. All our Research Track residents present their work at major regional and national scientific conferences—where many win major awards for their work—and publish manuscripts in peer-reviewed journals. Many Research Track residents obtain a master's degree or other advanced degree during their research training years.
Research Track Resident Resources
Heading
Resident Research Career Development Program
Content
The unique Resident Research Career Development Program is designed to launch the careers of residents who are committed to surgical research by providing structured support during residency and guaranteed faculty positions within our department. Residents in the Research Track can qualify for this program by achieving key milestones during their training, including successfully obtaining a postdoctoral fellowship award and developing a competitive career development award proposal. Upon completion of the seven-year residency, qualifying residents enter our department's Faculty Scholar Program, in which they will continue to receive structured support as they progress toward becoming independent investigators with major extramural funding.
Heading
Resident Research Day Symposium
Media Component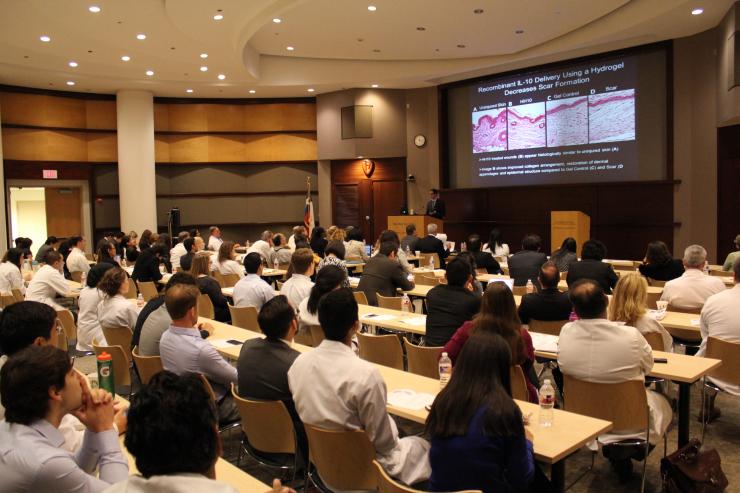 Content
We are very proud of the incredible research achievements of our residents, fellows, students, and staff. Each June, we celebrate these achievements at our annual Michael E. DeBakey Department of Surgery Research Day. This two day event, underwritten by the halting of all non-urgent clinical activities, features podium and poster presentations highlighting the research conducted by our trainees, awards for the best presentations, and a keynote address from a distinguished visiting surgeon-scientist. Always attended by several hundred faculty, trainees and students, Research Day is perennially a highlight of our academic year.
Heading
Research Interests of Our Faculty Mentors
Content
To assist residents in selecting faculty mentors, we provide summaries of the research interests and publications of all our faculty members with active research programs. Our faculty mentors include surgeons from each of our divisions as well as full-time Ph.D. scientists.