Master
Media Component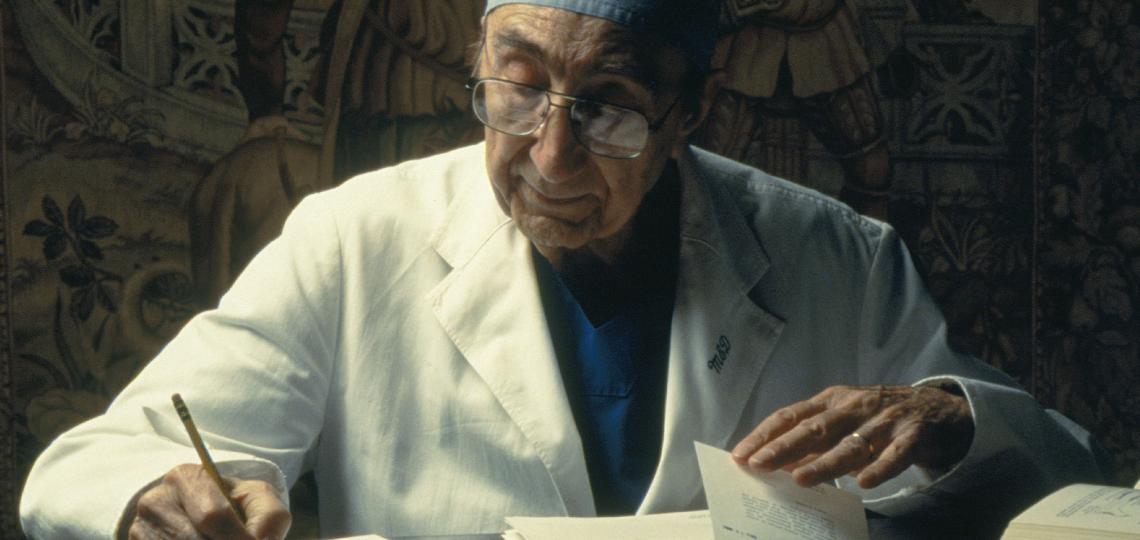 Heading
About the Contest
Content
Each year since 2004, Baylor College of Medicine has hosted the Michael E. DeBakey Medical Student Poetry Awards.
The contest honors this preeminent cardiovascular surgeon, pioneering medical scientist, gifted medical educator, prolific author and scholar, and passionate advocate of optimal healthcare throughout the world. Dr. DeBakey strongly supported a role for the humanities in both medical education and in the development of a full, enriching intellectual life.
2023 Award Update
Note regarding the 2023 DeBakey Poetry Awards: We apologize for the delays in reviewing this year's submissions. We still intend to provide Awards. We do not yet know the timeline for announcing Award recipients. We will post further updates and announcements on this page.
Heading
2022 Awards Recipients
Content
First place cash prize of $1,000: "That Calcified Knot," by Ellen Zhang, Harvard Medical School
Second place cash prize of $500: "The Day After," by Anneka Johnston-Dumerauf, Stritch School of Medicine at Loyola University Chicago
Third place cash prize of $250: "Marigolds," by Katya Lavine, Warren Alpert Medical School of Brown University
Honorable Mention
"Libation," by Alexandra DeFelice, University of Virginia School of Medicine
"Ballad of Base Pairs," by Alyssa Colombo, Wake Forest University School of Medicine
"Beauty Band-Aid," by Eshiemomoh Osilama, Geisinger Commonwealth School of Medicine
View Past Recipients
Heading
Entry Rules and Guidelines
Content
Entrant must be a medical student currently pursuing a medical doctor (M.D.) degree in an accredited United States medical school.
Please submit one poem only. It must be original and in English (no translations from other languages) and should cover a medical topic in no more than 50 lines.
Your submission cannot have been previously published (in print or online, including social media, blogs, and videos) and/or sold to the public or transferred to another entity for sale to the public. Your submission cannot be under consideration for publication, and cannot have been awarded recognition, in another journal or writing contest. Additionally, posting or publication of your entry in any form (in print or online including social media and blogs and videos) prior to the announcement of the contest winners will result in immediate disqualification.
Each medical student may submit one poem as a Word document (.doc or .docx), to be with the following components to Christine Cummings at Christine.Cummings@bcm.edu:
One cover page that includes your name, current mailing address, e-mail address and telephone number.
One photocopy of a current student I.D. card documenting medical school enrollment. If a medical school student ID is not available, either a letter of good standing from the medical school, a current class or clinical rotation schedule dated within the current school year or a tuition bill or statement dated within the current school year is acceptable.
Font should be 12 point Times New Roman, Garamond, or similar.
Limited to two 8.5 x 11 inch pages and 50 lines.
Single space within each stanza, with a line between stanzas. For poems with nontraditional spacing, submit a PDF (.pdf) along with the Word document (.doc or .docx) in your email.
Put your name in the upper right header of all pages of the poem (last name followed by first name, separated by a comma). If two pages in length, add page numbers after your name.
Entries must be emailed no later than Jan. 31, 2023. We will not be able to confirm receipt of your submission. Winners will be announced online in July, 2023.
The first-prize poem will become the property of the Michael E. DeBakey Medical Student Poetry Awards program and will be submitted to a major medical periodical for consideration for publication. If the piece is accepted for publication, the requested rights will be per the publishing journal's policies.
Recognition and cash awards of the following amounts will be awarded to the three poems receiving the highest scores from the panel of judges:
$1,000 for first prize
$500 for second prize
$250 for third prize
View all DeBakey Poetry Contest Winners.