Master
Heading
Nationally Recognized Recipient of the 2020 AΩA Honor Medical Society Professionalism Award
Content
The Center for Professionalism is focused on creating a culture of civility, compassion and connection through heightened professionalism.
The definition of Professionalism: "Set of attitudes and behaviors that cultivate competence and connection through positive, respectful and trustworthy relationships"
Media Component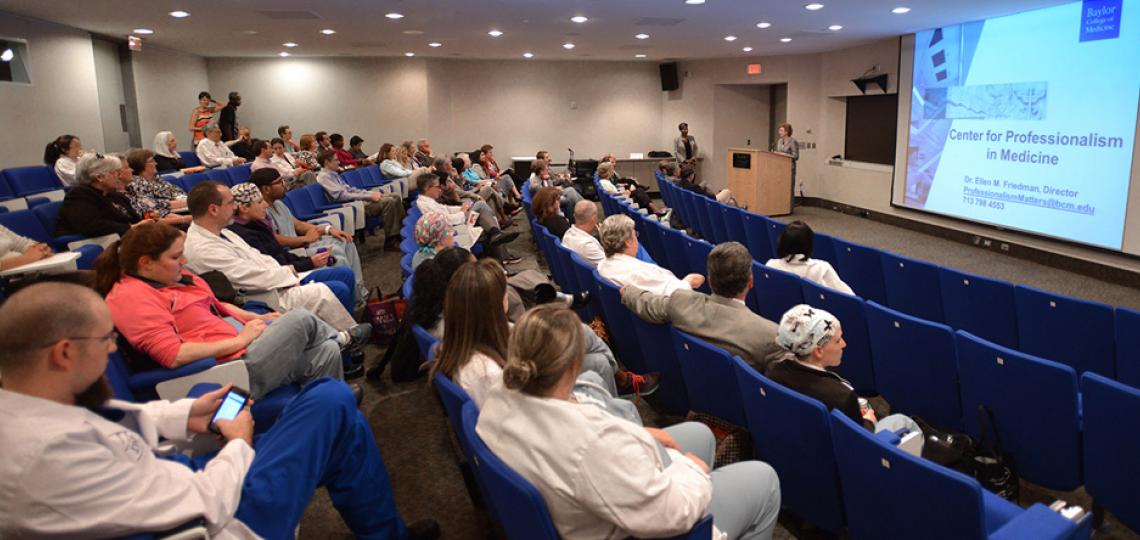 Heading
What Is Professionalism?
Content
Professionalism describes the behaviors, responsibilities and values one assumes in practice of a profession.
In medicine, medical education and training, professionalism includes absolute integrity, awareness of the impact of one's behavior on patients, colleagues and coworkers. It includes clear, honest and timely communication, meticulous, compassionate and up-to-date care, with the highest priority given to the needs and interests of our patients.
In research, it includes absolute integrity and collegial and respectful relationships with colleagues and coworkers. It is respect and concern for the welfare of research subjects, both human and nonhuman, and manage any potential conflict or appearance of conflict of interest.
 
Content
Since 2013, the Center for Professionalism has made a positive impact at Baylor College of Medicine through programs that maintain and enhance a culture of professionalism by establishing a respectful and consistent approach to accountability.  
The center was established to create a culture of civility, compassion and connection through professionalism. The center has taken steps to maintain a compassionate medical environment with involvement of each of its various schools on multiple affiliate campuses. In addition, an advisory committee called the Professionalism Partners has been formed to serve as mission leaders to spearhead activities across the College. While developing excellent resources for education and support in professionalism, the center has created the Power of Professionalism Award (POP) to recognize individuals who exemplify outstanding competence and proficiency.
The center has been recognized for their efforts, being awarded the Josiah Macy Foundation Presidential Grant to fund the creation of a workshop to address empathy and teamwork among physicians and healthcare workers and the 2020 AOA Medical Honor Society Professionalism Award for best practices in Medical Professionalism Education. Dr. Ellen Friedman, the inaugural center director, has also been the recipient of the 2021 AMA Foundation Award for Leadership in Medical Ethics and Professionalism.
Moving forward, the Center for Professionalism works to extend professionalism programs into the curriculum of all the College's schools, as well as in faculty recruitment and new hire orientations.
Content
Offerings 
Support 
Concern Resolution
Mini Grants
The center offers mini grants, between $300 and $1,000, to support innovative and unique small programs focused on professionalism. View details and application information.
Speakers Bureau
Ellen Friedman, M.D., Director or Dr. Stacey R. Rose, MD, Associate Director, of the Center for Professionalism are available to give lectures and presentations on professionalism for retreats, conferences, programs, grand rounds and more.
Contact the center at ProfessionalismMatters@bcm.edu or (713) 798-4553.
Professionalism Platform
The Professionalism Platform is a new resource to facilitate professionalism education. Learn more.
Resources
Policies
Heading
Facilitator's Manual for a 60-Minute Workshop
Content
'The Threads Among Us' video is designed to increase discussions about the ways in which healthcare professionals treat one another. A 60-minute workshop that accompanies the video is available for free.
View Video and Workshop
Content
Center for Professionalism
One Baylor Plaza, Suite 206A
Mail Stop: BCM165
Houston, Texas 77030
ProfessionalismMatters@bcm.edu
(713) 798-4553
Ellen M. Friedman, M.D., FAAP, FACS
Director, Center for Professionalism
Stacey Rose, M.D., FACP, FIDSA
Associate Director, Center for Professionalism
Andrea Croft
Administrative Contact, Center for Professionalism
Integrity Hotline: (855) 764-7292